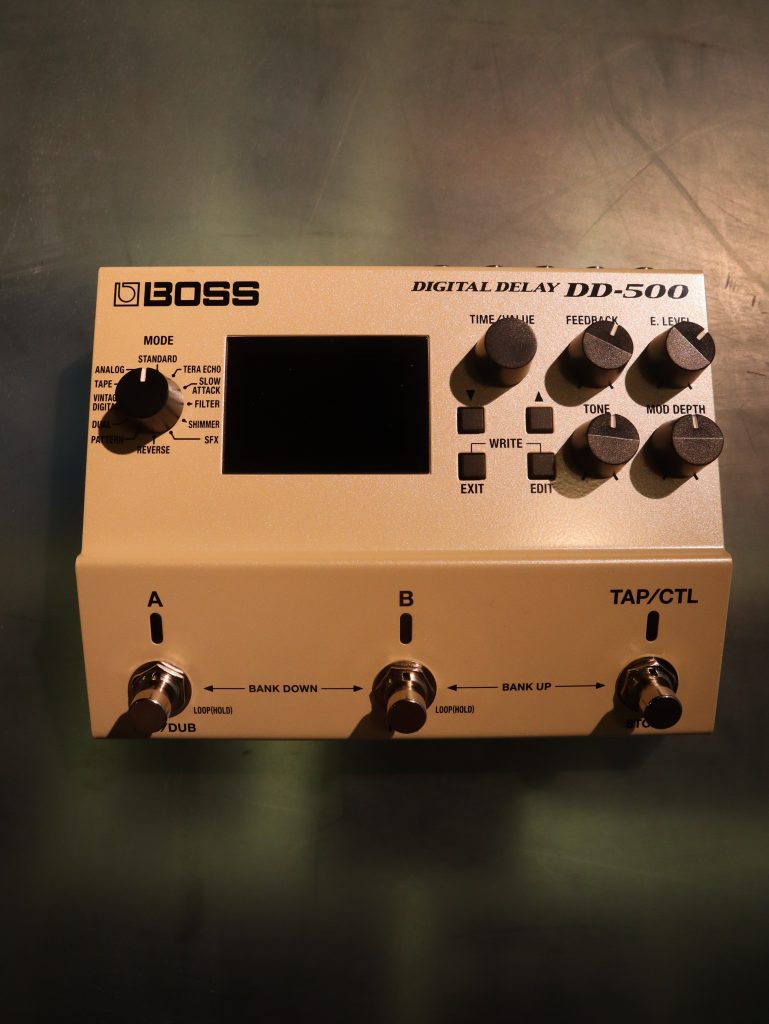 Boss DD-500 Digital Delay
Filled to the brim with the latest BOSS technology, the DD-500 is one of the most powerful and versatile delay pedals ever. This incredible magic box offers not only 12 different delay modes with exceptional audio quality, but also extensive editing capabilities, a graphic display, patch memories, MIDI and much more. From simple echoes to perfect emulations of classic delays, or be amazed by the lushest spatial textures. With the DD-500, a whole new world opens up for your music.
+ Shipping cost calculated at check-out
+ Your product ships within 2 working days
+ Fair Trade return within 14 days
+ Video Call demonstration for amps and guitars available.

Request Demo

Send Whatsapp

Send E-mail
Request a Video Call Demo
Boss DD-500 Digital Delay
https://www.kauffmannsguitarstore.com/product/boss-dd-500-digital-delay/
What would you like to know?
Boss DD-500 Digital Delay
https://www.kauffmannsguitarstore.com/product/boss-dd-500-digital-delay/
SPECS
digitaal delay pedaal
sampling frequency: 96 kHz
AD/DA conversion: 32 bits
processing: 31-bit floating point
delay types:
standard, analog, tape, vintage digital, dual, pattern, tera echo, slow attack, filter, shimmer, SFX
maximale delay tijd: 10 seconden (afhankelijk van delay type)
looper functie: max 60 seconden (met delay)
geheugenplaatsen: 198
schakelaars:
rec/dub
play
stop
regelaars:
mode
time/value
feedback
level
tone
mod depth
display: LCD, backlit, 128 x 62
In- en uitgangen:
input A/Mono, jack 6.3 mm (1/4 inch) TS
input B, jack 6.3 mm (1/4 inch) TS
output A/Mono, jack 6.3 mm (1/4 inch) TS
output B, jack 6.3 mm (1/4 inch) TS
USB
Midi (in out)
Voeding: AA x 4 of 9V AC adapter (optioneel)
afmetingen: 170 mm (6 3/4 inch) x 138 mm (5 7/16 inch) x 62 mm (2 1/2 inch) (WxDxH)
gewicht: 1 kg