Why are we such big fans of Taylor Guitars, you ask? Because the playability of Taylor Guitars is unmatched, and because they continue to blow us away with the genius innovations they continue to make in the instruments they build. Because they are doing their best to reduce their climate footprint by using sustainable tonewood. And, of course, because they sound great.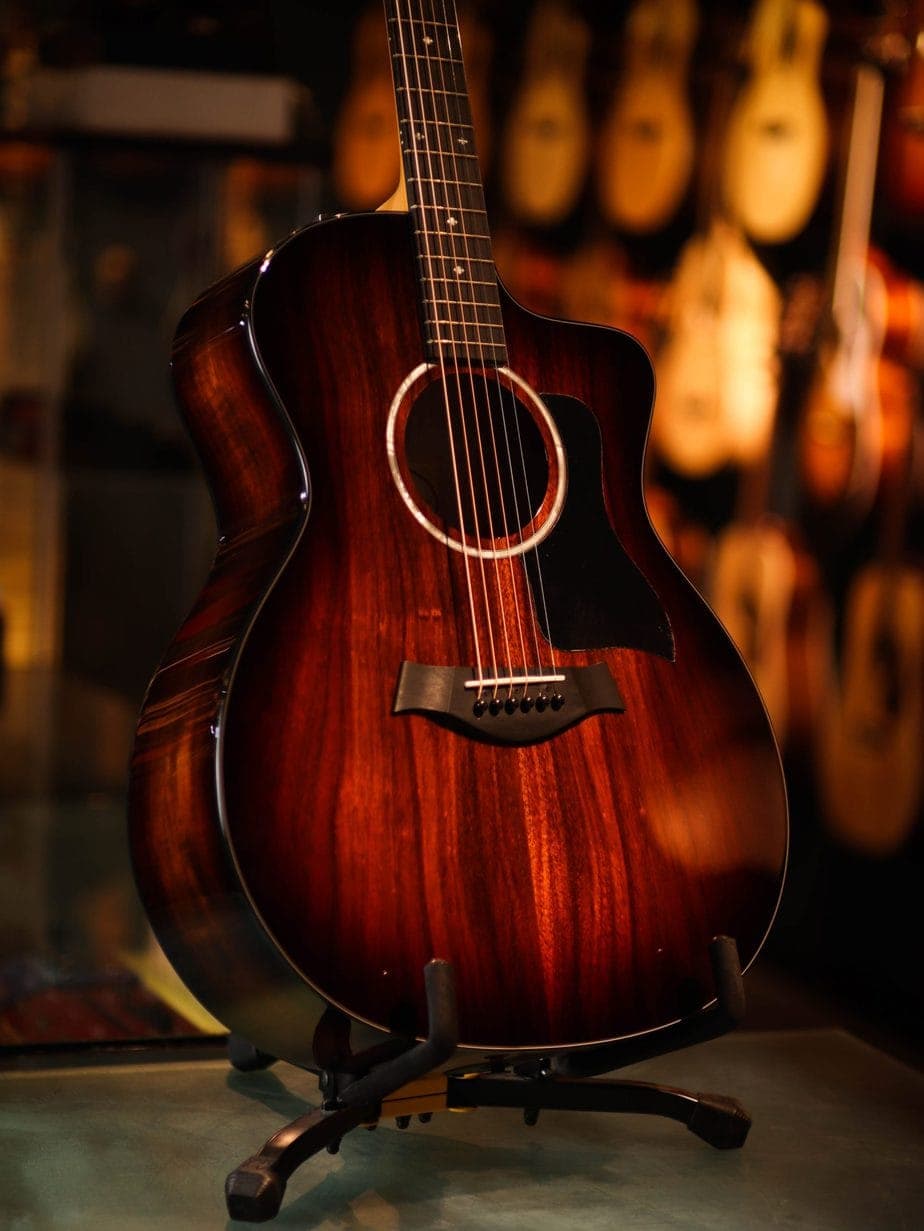 Why we sell Taylor Guitars
At KGS, we only carry brands we truly believe in. Here are the some of the key reasons we sell Taylor Guitars:
One of the most playable guitars due to the innovative neck-body construction
Continues and superior innovation in acoustic guitars such as easy adjustable bold on necks, V-class bracing that gives a louder and more sustained tone with better perceived intonation up the entire neck
Keen eye for sustainability, Taylor has their own Ebony plantations and uses reclaimed wood from urban areas. And they make it sound awesome.
Do you ever wonder where the wood in your guitar comes from? And how guitar builders deal with the increasingly scarce tonewoods? Then you can't miss the Taylor Ebony project. Read here all about combating unnecessary waste, about replanting in Cameroon, and about fairer labour.
see the reviews
Shop Now
Taylor GT
From € 1799,-
The Taylor GT combines the best of both worlds; the compact dimensions of a travel guitar and the sound of a 'big' guitar. But how is that even possible?
Head designer at Taylor Guitars Andy Powers, combines an unusual string length of 24.125″ with a new design based on a proprietary C-class bracing. The shorter string length makes the guitar play smoother and the C-Class bracing makes the guitar sound bigger than it actually is.
The sides and back are made of solid Urban Ash, a type of wood that would previously be discarded or burned in cities across America. Being big advocates of sustainability, Taylor Guitars found a new use for this wood and proved to the world that it can be used to build great guitars. In terms of tone, Urban Ash can be compared to mahogany, which is known for its warm sound, with an accent on the midrange.
shop now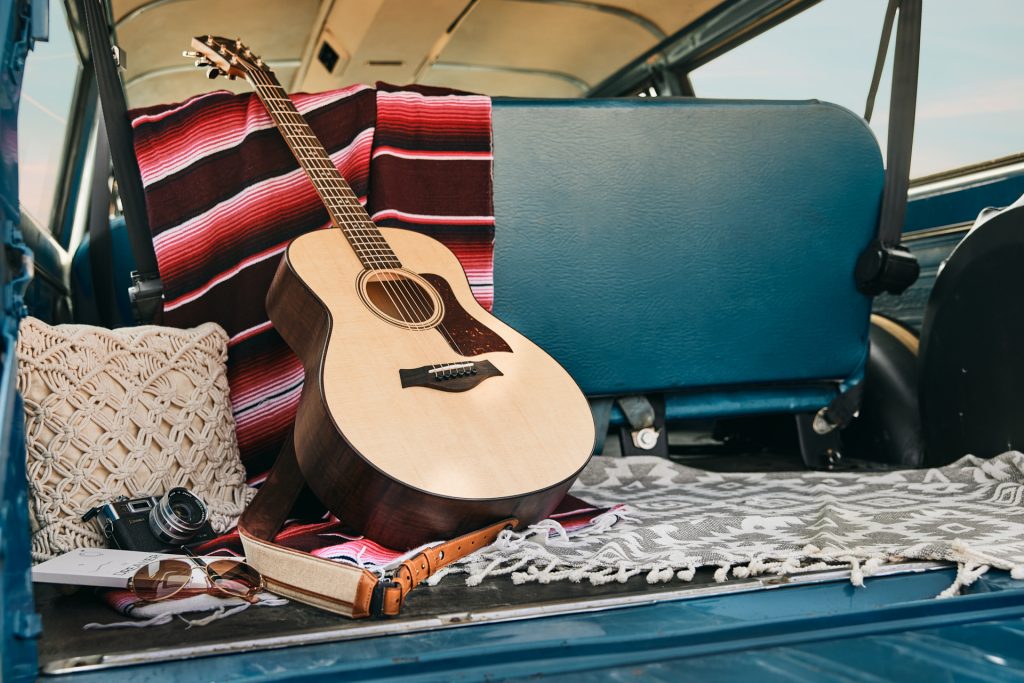 Founded in 1974 by Bob Taylor and Kurt Listug, Taylor Guitars has since grown into one of the leading builders of acoustic guitars worldwide. Recognised for their ability to blend modern, innovative manufacturing techniques with a master craftsman's attention to detail, Taylor Guitars are considered as some of the easiest to play, and best sounding guitars on the market today. Bob Taylor is widely known for his visionary approach to acoustic guitar manufacturing, and for good reason. The company is an industry pioneer when it comes to the use of computer mills, lasers, as well as other high-tech tools and proprietary machinery.
2011 marked Taylor Guitars' expansion into the European market, as it was the year they opened a Taylor distribution warehouse, located in the Netherlands. In order to keep up with the ever growing demand for their guitars, Taylor Guitars surpassed 700 employees in 2012, the majority of which operate in the brand's two factories – one located in El Cajon, California and the other a few miles south, in Tecate, Mexico. The Tecate factory is where the lower-priced Taylor
Guitar models and guitar cases are manufactured. In 2014 Taylor Guitars was honored by the U.S. State Department with an Award for Corporate Excellence (ACE). The award was citing the company's commitment and proactive efforts when it comes to responsible practices when obtaining ebony wood for its guitars, which notably included the purchase of their own sustainable ebony mill in Cameroon, and effectively increasing the mill's usable timber output from 10% to 100%.
Over the years, founders Bob and Kurt have attracted a vast number of talented, like-minded individuals, many of which ended up joining the Taylor family as employees. This constant involvement of new talent has allowed the Taylor brand to continuously shape and evolve a widely admired culture of creativity and innovation which has never lost sight of the philosophy that it was founded on; to improve the guitar-playing experience. Today, Taylor employs over 1200 people world wide. Another notable achievement for the company is that it became fully employee-owned as of January 12th,
2021 through an EOSP (Employee Stock Ownership Plan). Rather than selling the company to a mega guitar conglomerate or brand, Bob and Kurt felt that it was best to position the company for future success by entrusting it to the people who are the lifeblood of Taylor Guitars' innovative culture, growth and success. The decision to go this route demonstrates that the brand has the best interest at heart for what makes Taylor Guitars, Taylor Guitars; its employees. At Kauffmann's Guitar Store we firmly believe that this is a key reason the brand will continue to provide customers with the best possible Taylor experience for years to come.
And there you have it; several of the many reasons we are proud to be an official Taylor Guitar dealer. Kudos to the Taylor team for working so hard to help the brand expand its mission of making great, innovative guitars for enthusiasts around the world, and doing so in the most sustainable way possible.
the ebony project
Taylor Guitars "The State of Ebony" – Guitar Wood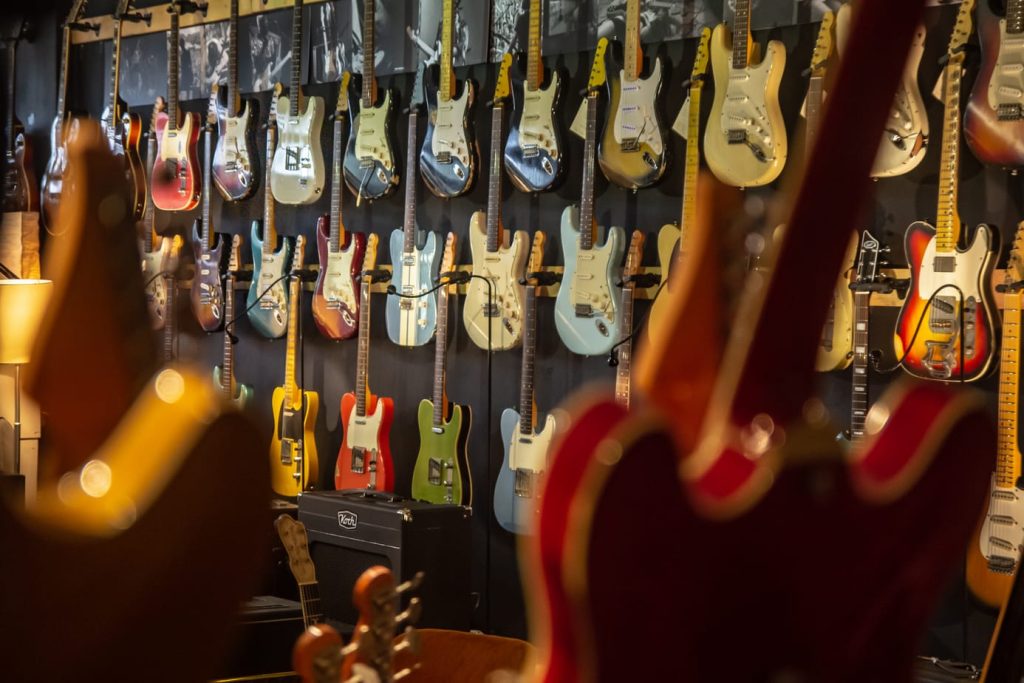 Lets talk Taylor Guitars
We are here to help with anything you might like to know about our Taylor guitar collection. We have a large collection of both acoustic and electric Taylor guitars. In addition you can find brand spanking new guitars and used. Drop us a message or give us a call!
Private Studio Session
Looking to give our Taylor guitars a try? Book a private studio session here at our store. Touch, smell and hear the guitar you have been thinking about before you pull the trigger on a purchase.
Get in touch
Book a session
BEATIE WOLFE TAYLOR GT URBAN ASH
Musical eccentric and visonary Beatie Wolfe gives her first impression of the Taylor Grand Theater. And talks about her use of traditional instruments for futuristic music. About the importance of Urban Ash and reclaimed wood. And about how beautiful a guitar can sound.
MASTER DESIGNER ANDT POWERS AND THE AMERICAN DREAM AD17E 
The most popular model from Faith is without doubt the Venus. And it comes in many different versions. Mike and Pete from Acoustic Paradiso take a closer look at two of them. Is the Hi-Gloss worth the extra money?
CHRIS MCKEE HAS 10 THINGS YOU SHOULD KNOW BEFORE YOU BUY A TAYLOR
10 very handy tips from our colleague Chris Mckee that will help you if you're thinking about buying a Taylor.
V CLASS BRACING, A NEW REVOLUTION?
Andy Powers figured out how the trusses of an acoustic guitar affect the sound. And replaced the traditional X bracing for V class bracing. Anderton's investigates whether it will really change the world?
PAUL DAVIDS COMPARES HIS MARTIN AND HIS TAYLOR
Paul Davids looks for the similarities and differences between his Martin D 42 and his Taylor 716.
TAYLOR GRAND PACIFIC WITH ANDY POWERS
Master builder Andy Powers recognized that there was room for a different sound in the Taylor range. Inspired by the sounds of California's Laurel Canyon scene of the 60s and 70s, this Grand Pacific has a rounder, warmer tone with more emphasis on the low end. An almost classic Slope Shoulder dreadnought but modernized with Taylor's V-Class bracing.
THE REAL STORY OF V-CLASS BRACING WITH ANDY POWERS
V-Class bracing has become the new standard in Taylor guitar. Hear and see the story of Andy Powers, the designer of V Class bracing.
WHAT IS V-CLASS BRACING? AND HOW DOES IT WORK?
Why a guitar with V-class bracing has more volume and more sustain.
MOLLY MILLER AND ANDY POWERS EXPLORE THE GRAND THEATER
The Taylor GT sits between a full size guitar and, let's say, the Taylor GS Mini. But what does it sound like? Is it the sound of a full size in the form of a small size?