"Nothing is more beautiful than a guitar, except, possibly two."
– Frederic Chopin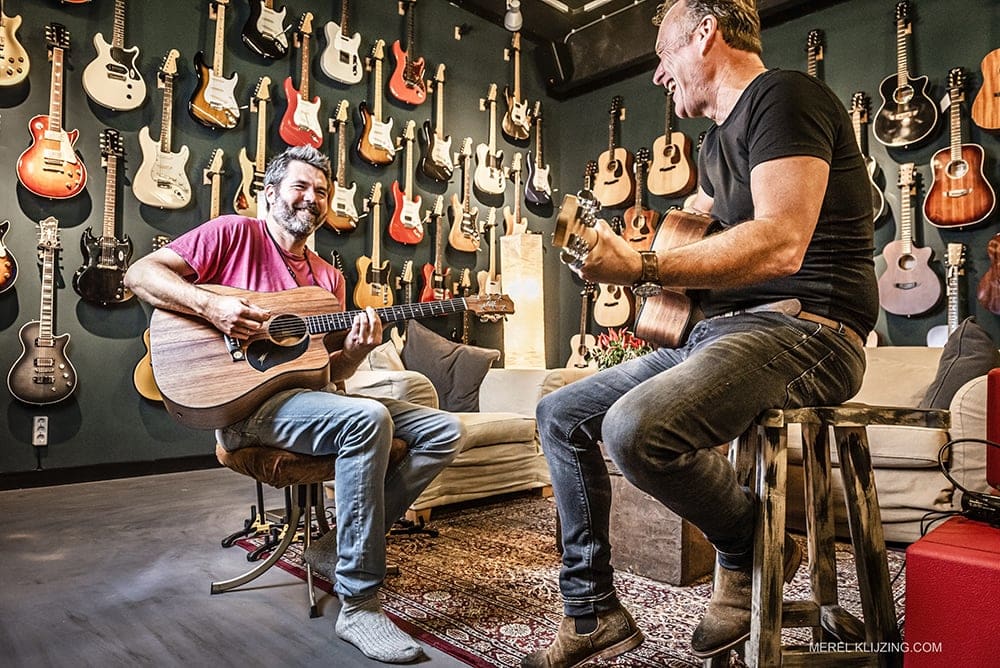 "You don't have to be a great player
to love a guitar. But being a guitar lover
sure helps to become a better player."
– Albert Deinum
Read Our Story
Imagine a guitar built by a guitarist.
Someone who knows that it is all about the feel.
And who combines 20 years of gigging experience
with a practical and creative approach to building.
Our own brand of Kauffmann Guitars & Amps does just that.
Find Out More
Our story

It all started with the idea of one day building the perfect guitar shop; a player's paradise, filled with great guitars, amps, and like minded people who you could jam and explore different sounds with.
With this idea as the blueprint for Kauffmann's guitar shop, we started our store in 2010, which gave us the opportunity to pass on over 20 years of experience, knowledge, and advice to others who share our passion. Today, our guitar shop has become a place where we help players at any level discover the best possible guitars in every budget category, do in-house repairs, build our own guitars, share stories, jam, and hang out with those that come to visit us.
The many years of building our own custom guitars and touring as professional musicians have given us the expertise to confidently select guitars with the best quality to price ratio. We look past big brand names and 'easy sells' in order to make sure that we offer our customers the best guitar for them. Whether you're a beginner or seasoned professional, we believe that we can expand your horizon as a guitar player.
What makes our guitar shop special?

Kauffmann's guitar shop started out of love for guitars, not for the money that can be made selling them. With this in mind, we make sure that our approach to selling guitars reflects this; beautiful product pictures, and descriptions that voice our honest opinion, experience, and the reason we chose to carry any particular guitar. Yes, the specs are part of that reason, but it often comes down to a specific feeling that you get when playing a guitar. Using our humorous imagination and creative writing skills, we will do our best to describe this feeling to you as accurately as possible.
A guitar shop you can feel at home at
When we started Kauffmann's guitar shop, we had to make sure that it was not only a great place to showcase the 350+ different guitars and over 10 guitar brands we sell, but also a place in which our community of customers and fellow guitar lovers can feel at home.
Whether you have a specific guitar in mind, or are looking to try out a dozen, we made sure that our guitar shop has plenty of comfortable seating areas where you can plug in and play the guitar you just picked off the wall. If you really want to let it rip, or simply want to spend some quality one-on-one time with a guitar you got your eyes on, then you can make use of our private, fully equipped test studio.
But Kauffmann's guitar store is not only for those who want to buy guitars and equipment. Our passion for guitars runs deep, which is why we built our own in-house guitar workshop. Need a tune up or repair? No problem. Looking for a custom built guitar? We got you.