The secret to the success of Eastman Guitars is, funny enough, no secret at all. It's rather old news, actually. Eastman Guitars doesn't use fancy design software or innovative computerised machines and routers in their workshop. No, the devices they use are old-school – trained hands and sharp tools. The same way they were used in master workshops 100 years ago. And this is exactly what makes Eastman Guitars so special. Their craftspeople and master builders, under the guidance of master luthiers, carefully handcraft all the Eastman Guitars from aged tonewoods in precisely the same way as the famous French and German classical instrument workshops did over a century ago. The result? Truly remarkable and expertly crafted guitars.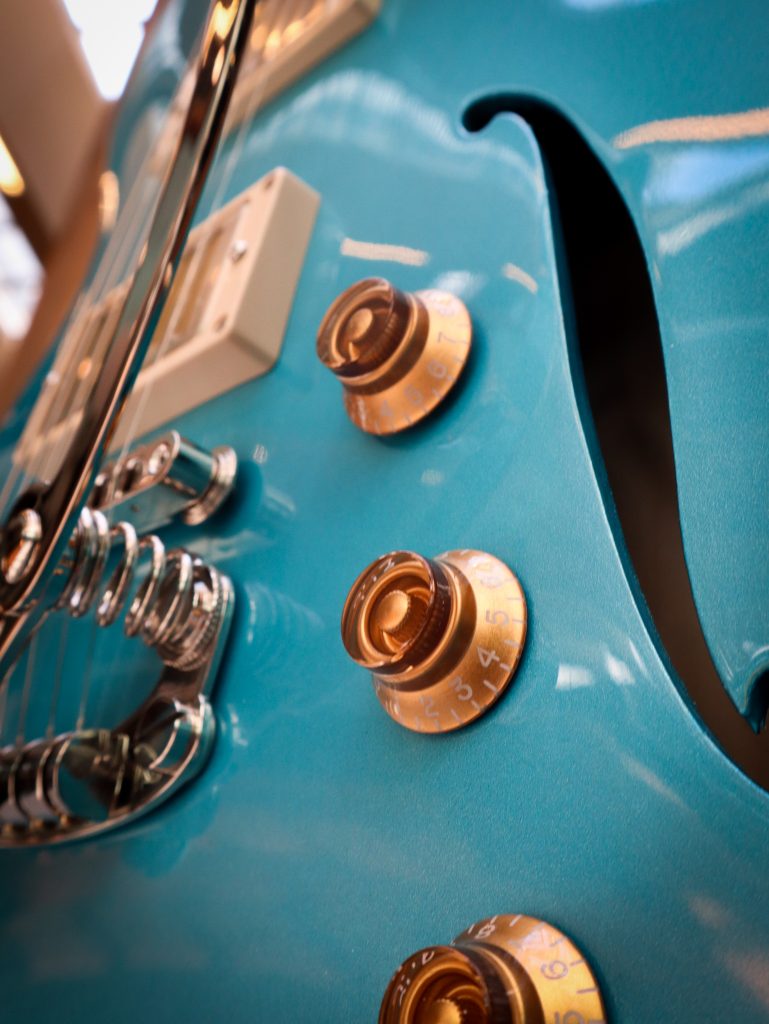 Why we sell Eastman Guitars
At KGS, we only carry brands we truly believe in. Here are the some of the key reasons we sell Eastman Guitars:
Great value for money
Acoustics: great range based on the classics like the dreadnought and the orchestra models.
Acoustics: Solid build quality at a very competitive price that makes you wonder why you would get a Gibson or Martin that is easily twice as expensive.
Electrics: seriously good ES-335 based models starting at a little over €1100,-
Quality control and service. Eastman guitars go to a rigorous quality check and their after sales service is phenomanal
Naturally, if we decide to become an official dealer of a certain brand, it's because we believe they make great guitars. This, of course, also applies to Eastman Guitars. The price to quality ratio of their guitars is incredible; they look great, feel great, and play great. But don't just take our word for it; check out this review.
see the reviews
Shop Now
Eastman Thinline Series
From € 1399,-
The Eastman thinline electric guitars are a great alternative for players who are looking for a 335 style instrument without busting the bank. Nitro finished guitars, vintage oriented colors and  quality craftmanshipare the hallmakt for this series. Pickups vary from Kent Amstrong, Seymour Duncan to Lollar. Check out the T386, T486, T59/v for a traditional 335 feel. Rather have a slightly smalle body? Go for the T484. And if you want thru hollow body sounds then the T64/v might be your thing.
shop now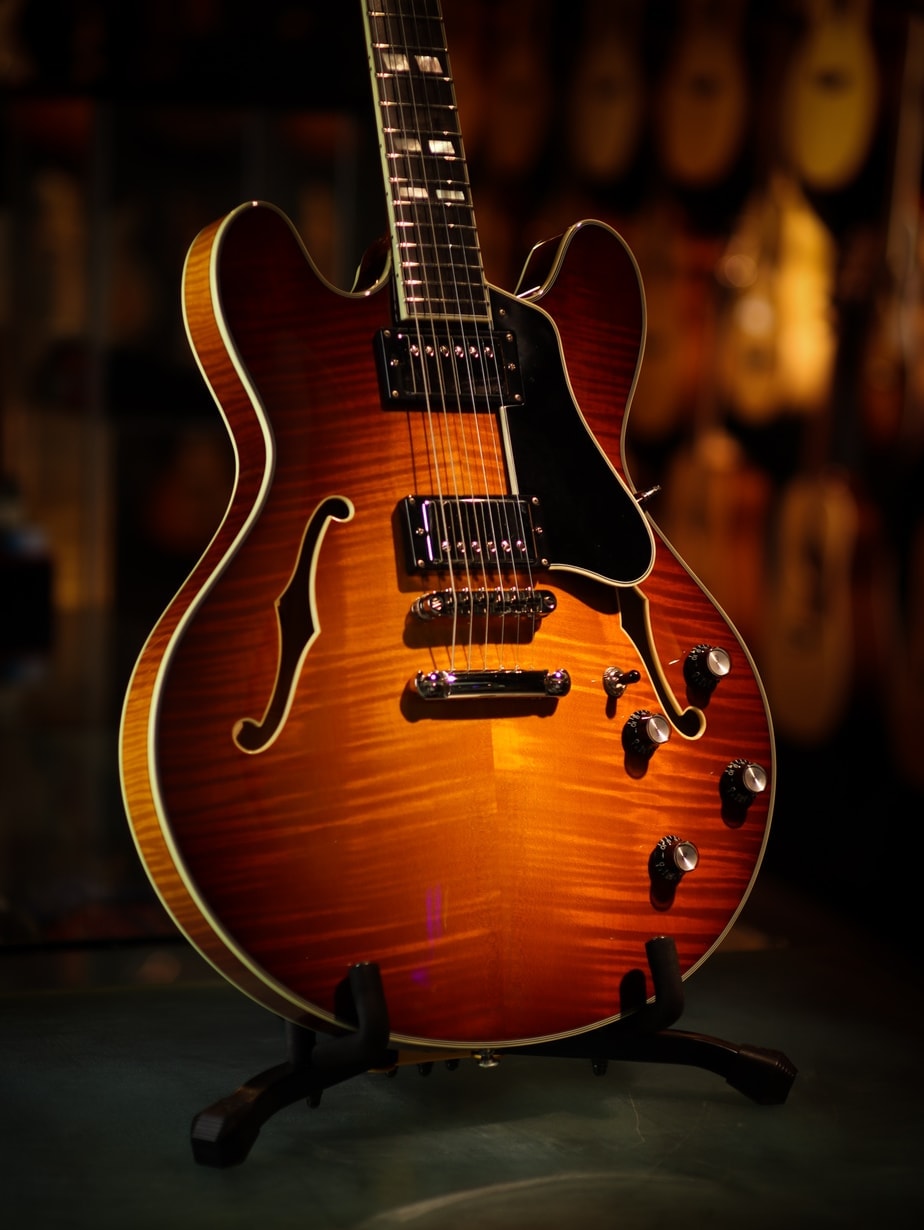 After graduating from Boston University School of Music in 1992, the accomplished flutist from Beijing, Qian Ni, founded Eastman Strings. At the time, Qian never imagined that, over the course of 25 years, what initially started as an importing business for Chinese made violins, violas and cellos, which he operated out of the back of his car, would grow into a global maker of musical instruments. Qian started Eastman Strings with the hope of providing world class instruments for fellow musicians. While China was a well established source for cheap instruments, Qian believed that if his home country were to have a long term future in the musical instrument manufacturing industry, it would have to step up its game and produce high quality instruments which were comparable to those being made in Europe and the US. Driven by this realisation, Qian started looking for Western trained violin makers who could make professional grade instruments, and moved from solely being an importer to actually manufacturing his own instruments.
By 1994, Eastman Strings was gaining traction in the market, and was doing well enough to employ a team of full time makers based in Beijing. Eastmans Guitars success can be in part be accredited to Qian's determination to produce instruments exclusively using traditional violin making techniques instead of relying on modern technology. Eastman violins were made on workbenches, using chisels, knives, gouges and rasps, not routers and machine tools. Even today, the only modern device used in the Eastman Guitars workshops are band-saws. By the end of the 90s, Eastman had continued to grow and expanded to include a case factory and a bow making workshop next to their ever increasing violin production facilities.
While Eastman was making significant waves in the classical music scene, Qian started to focus on his passion for classic jazz guitar designers such as Bob Bennedetto, John D'Angelico, John Monteleone, Claudio Pagelli and James D'Aquisto. Given the fact that
at this point in time Eastman had a team of expert luthiers with experience in crafting carved top instruments, as well as considerable buying power with timber suppliers who had access to high quality Maple and Spruce, Qian realised that he was in the perfect position to expand Eastman to include guitar manufacturing. In 2002, Eastman showed a pair of unlabelled prototype arch top guitars next to their violins at the NAMM show, and got surprisingly positive responses. Being fuelled by this feedback, their team started to dedicate more time and resources towards their guitar production efforts. After extensive research into a series of vintage arch-tops and bringing US guitar makers Otto D'Ambrosio and Mark Lacey on board to collaborate on Eastman Guitars first designs, Eastman Guitars officially launched in 2004 with the first production run of guitars, which were an instant success.
As a follow up to the first wave of traditional arch tops, Eastman Guitars went on to release a range of mandolins, which were based on the early 20th Century Gibson oval and f holde designs. These vetted designs got the Eastman Guitar treatment via the use of the same high quality and hand carved tonewoods which could also be seen in the arch tops. Given their impressive success, the Eastman Guitars arch-top range was also expanded to include a series of laminated construction of electric guitars, which were based on the popular ES-335 and ES-175 model designs.
When Eastman Guitars celebrated its 10th anniversary in 2014, the company had grown significantly, now employing more than 250 people which were split between two workshops, and producing guitars, violins, mandolins, and other instruments of the violin family. What is impressive to note, is that despite the size of their company, Eastman Guitars continues to stay true to Qian's original vision; to operate on a strictly traditional basis with mostly hand tools used in the production of all Eastman Guitars and other instruments that the company produces.
Yes, Eastman Guitars are manufactured in China. But contrary to common beliefs when it comes to Chinese manufacturing standards, the employment conditions of Eastman Guitars mirror those of the US and Europe. They are proud to say that their team is evenly split between men and women, and that employees are able to choose the hours they work. Also in line with US practices, each member of the Eastman Guitars team is trained to be specialised in a particular step within the company's production process. This ensures that at each stage of the process, each guitar is worked on exclusively by specialists, giving each step the highest attention to detail possible. Impressively, the only elements of Eastman Guitars which are not handled in-house are the Gotoh hardware and the pickups. Depending on the model, these are either Seymour Duncan or Kent Armstrong.
When it comes to finishing, most Eastman Guitars use a traditional nitrocellulose lacquer. That being said, the company introduced a unique new finish option on four of their models. Very much in line with their traditional approach to handcrafted instrument making, this new finish is based on the varnish process of antique instruments. Specially adapted for guitars by Li Hua Rong, Eastman Guitars varnish shop manager, this process involves a traditional technique of hand varnishing the instrument in a golden colour first, which is then followed by a further coat of red dye, resulting in a varnish which has a beautiful, three dimensional depth effect. Lastly, it is finished with a shellac top coat, which can be rubbed to a soft gloss finish.
Eastman Guitars current range of electric guitars include the AR series of traditionally carved and laminated top jazz guitars, a more esoteric range of designer arch-tops like the Pisano and El Rey, the T series based on the Gibson ES-335 family of center-blocked arch-tops, the T58 which is a Gretsch style arch-top, and the SB series of solid body Les Paul style guitars.
our eastman demo
Eastman AC222CE-OV guitar demo – Better & Cheaper than Taylor?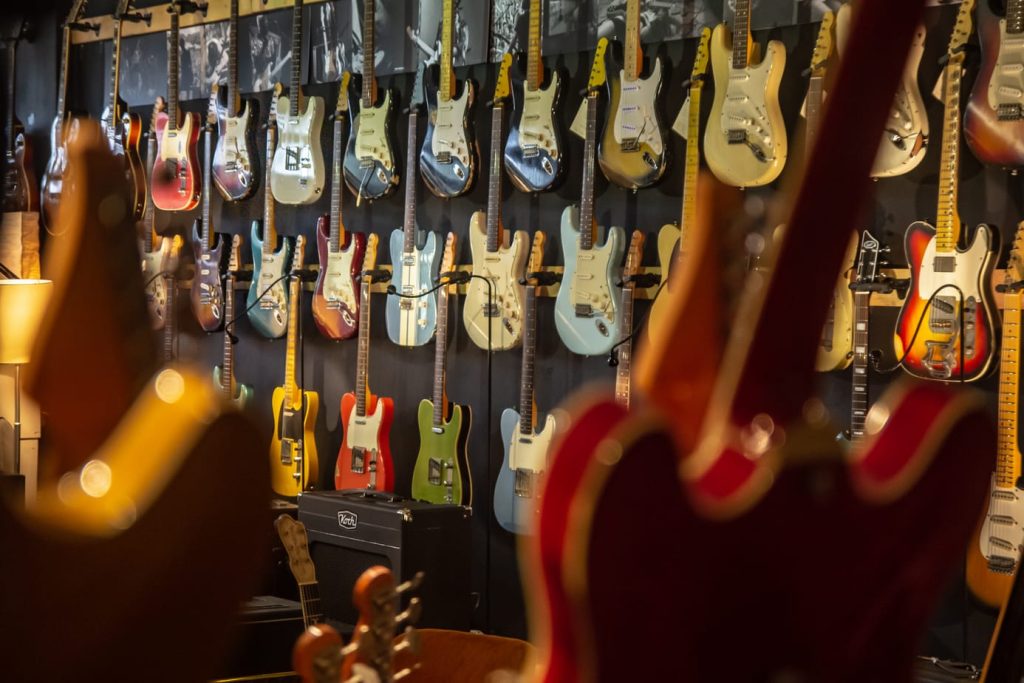 Lets talk Eastman Guitars
We are here to help with anything you might like to know about our Eastman guitar collection. We have a large collection of both acoustic and electric Eastman guitars. In addition you can find brand spanking new guitars and used. Drop us a message or give us a call!
Private Studio Session
Looking to give our Eastman guitars a try? Book a private studio session here at our store. Touch, smell and hear the guitar you have been thinking about before you pull the trigger on a purchase.
Get in touch
Book a session
COMPARING AN EASTMAN E10D AGAINST A MARTIN D18
Tony from the Acoustic Letter compares the Eastman E10D to a MArtin D18. Note by note, a genuine comparison.
MEET THE PEOPLE AT EASTMAN
Get a glimpse behind the scenes with the people of Eastman and how they look at building guitars.
HANDBUILD GUITARS, SEE HOW IT IS DONE
Eastman guitars are handbuild in Beijing China. Come and have a look over the shoulder over these craftsman.
Pepijn from Eastman gives an introduction into their luthier handmade guitars.
AN EXAMINATION OF THE AC222ce
The AC222 is a workhorse of a guitar. The guys at the Acoustic Letter put it to the test.
Let's compare two dreadnought guitars. A Eastman E10D with mahagany back and sides versus a E20D with rosewood back and sides.
If you are thinking about a ES 335 type guitar have a look at the demo made by the good people of N-stuff Music.
The Eastman Romeo reviewed by the Guitarist
The Romeo is an all original design by Eastman. It builds on their experience with thinline guitars and it adds its own colour.
EASTMAN SB VERSUS GIBSON LP MURPHY LAB
Reth Shull takes two Les Paul guitars to the testing grounds. With a €5500,- price difference, see what you would decide.