For almost 200 years Martin has been on the fore front of acoustic guitar building. Most of the acoustic guitars that we know today were created at some point in time by Martin. So it is safe to say that Martin is THE standard in acoustic guitars. The guitar against which all others are measured.

Why we sell Martin Guitars
At KGS, we only carry brands we truly believe in. Here are the some of the key reasons we sell Martin Guitars:
Martin more or less invented the acoustic guitar as we know it. And it is with ou a doubt the benchmark in acoustic guitars.
We focus on a few series out of the Martin catalog, the Standard, the Modern Deluxe, the Authentic Series and Martin's Custom Shop. We believe that Martin's craftsmanship is best displayed in these series.
Martin guitars have a immediately recognisable sound. Big, balanced and bright.
Even in this day and age a very large part of the Martin guitars that we sell is build by hand. And being a family owned and operated company the level of involvement and commitment of Martin employees well above average. And since guitar building is a craft that matters a lot.
See the reviews
Shop Now
Martin OOO-28 Ambertone 1933
From € 4899,-
The OOO has a slightly shorter scale length making it an ideal guitar for fingerpickers or blues players. The look of the ambertone top takes your right back in time. 1933 to be precies, when this guitar was first introduced.
shop now
TWO CENTURIES OF GUITAR HISTORY
A Martin isn't just a guitar. It's playable history; part of a long line of legendary instruments stretching back to the company's beginnings in 1833. Martin guitars were strummed by Civil War soldiers around campfires, helped shape the sound of modern music at the turn of the 20th century, and were played by music's first superstars like Jimmie Rodgers and Gene Autry. Decades later, Martins floored the crowd at Woodstock, then took center stage on MTV Unplugged, and can be heard on countless classic and contemporary songs across all genres of music. Artists like Hank Williams, Elvis Presley, Bob Dylan, John Lennon, Neil Young, Ed Sheeran, John Mayer, Seth Avett, and many others all played Martins, creating much of the soundtrack of the last century. And who knows? With one of Martin's instruments in your hand, you could help write the soundtrack for the next century.
HANDMADE MATTERS
There's a corner in Pennsylvania where timeless guitar-building techniques never go out of style. Where tradition rules and is respected. Where handmade still matters. You can only create guitars with amazing tone when artisans do honest work with care and patience without taking shortcuts. Handmade guitars are special; they have a soul all their own, and you can hear it in the music they create. Every handcrafted Martin is a stand against a mass-produced, disposable, speed-obsessed world. See, hear, and enjoy the difference.
Protecting the environment has always been important to Martin. After all, there's nothing more critical to our future—and everyone else's—than developing forests with long-term sustainability. That's why Martin was one of the first guitar manufacturers to develop an ecological policy in 1990. They have embraced responsible use of traditional tonewoods and encouraged building guitars with alternative woods. They are on a mission to protect the earth while providing economic, social, and cultural opportunities for people everywhere. As a company, they are committed to recycling everything they can, wasting as little as possible, and working to minimize their impact on the planet.
HEAR THE BEAUTY OF HANDMADE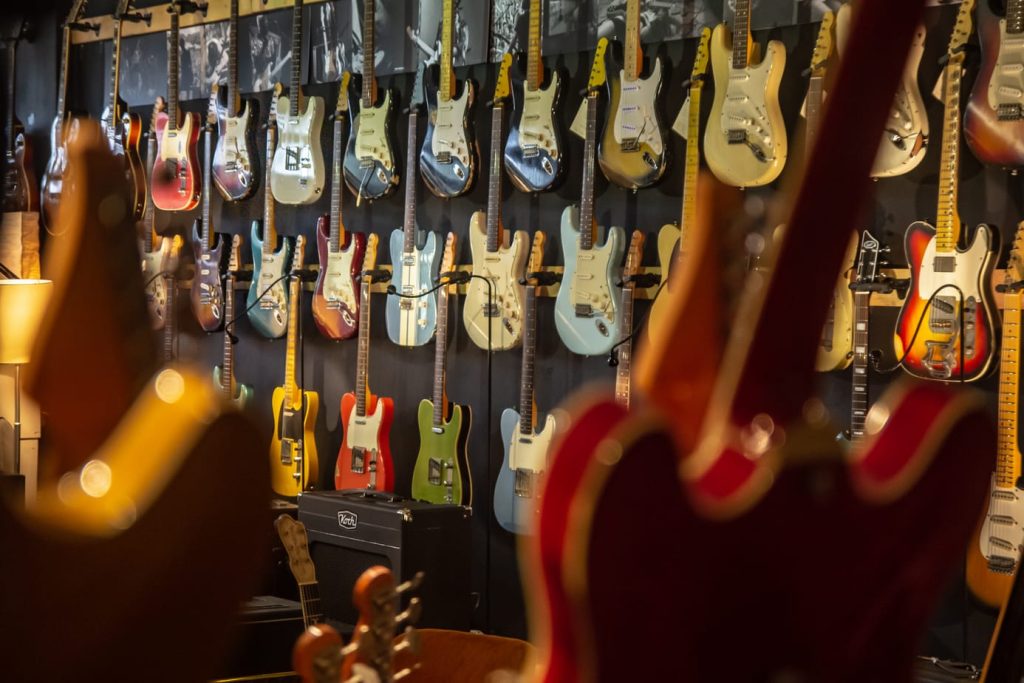 Lets try Martin guitars
We are here to help with anything you might like to know about our Martin guitar collection. We have a large collection of acousticmartin guitars. In addition you can find brand spanking new guitars and used models. Drop us a message or give us a call!
Private Studio Session
Looking to give our Martin guitars a try? Book a private studio here at our store. See, feel and hear the guitar you have been thinking about before you pull the trigger on a purchase.
Online Demo
Live far away? You can still see and hear Martin guitars in action. Ask about or online demo's. or book one right here.
Get in touch
Book a session
For lovers of old vintage guitars Martin recreated some of its past in the Authentic series. This is the D18- Authentic 1939.
THE BALLAD OF THE DREADNOUGHT
The ultimate history of the Martin Dreadnaught.
THE OM AND THE OOO, WHAT IS THE DIFFERENCE
They look very much alike, but they are not. See and hear how they are different and how to tell them apart.
Hear from the people at Martin why craftsmanship and handmade matter.
Check out the next level in acoustic guitars.
MARTIN OOO-28 AMBERTONE 1933
This Martin OOO with an Ambertone finish for extra vintage feel is played for you by Marco Gerrese.