Faith Guitars are very, very famous in England and virtually unknown in the Netherlands. 'Strange', we thought and decided to leave for Liverpool to do further research. There we made the acquaintance of master builder Patrick James Eggle. And we were blown away by the quality and price of the wide range of Faith Guitars. Faith offers no less than 11 different series, starting with the extremely well-priced Naked Series.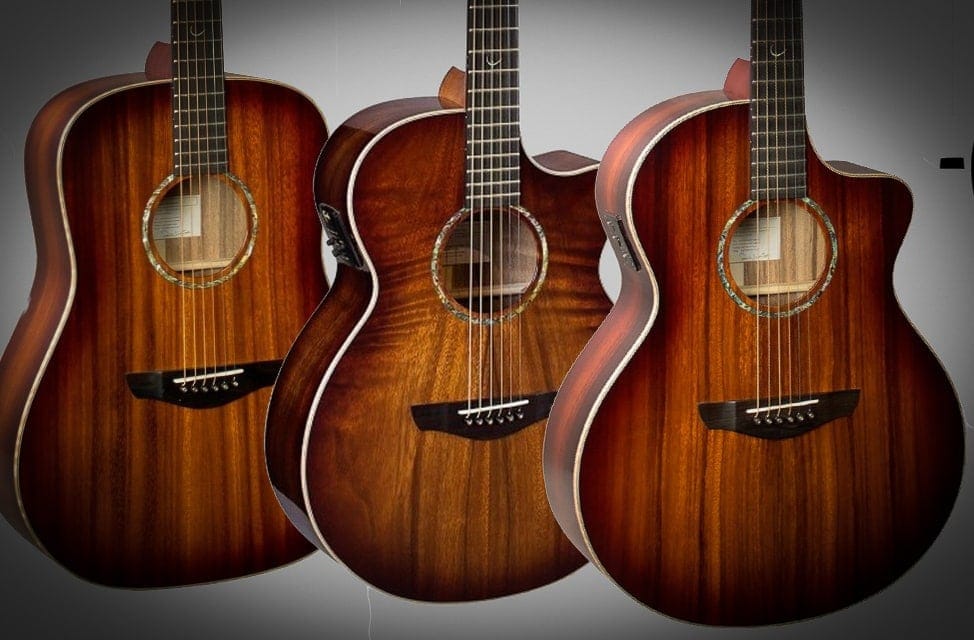 Why we sell Faith Guitars
At KGS, we only carry brands we truly believe in. Here are the some of the key reasons we sell Faith Guitars:
Modern designed guitars by Patrick James Eggle
Very good value for money, all guitar, even the modestly priced ones, are full solid wood guitars.
Affordable range of guitars, starting at just €600 you get a all solid wood guitar with Fishman pickup on board. And for a little over a €1000,-, you walk away with a full gloss rosewood guitar with an upmarket Fishman pickup and a cutaway including a hard case
Being able to visit the Faith Guitars shop in person, and witness the attention to detail, expertise, and skillful craftsmanship that goes into making their guitar was a great experience. It confirmed to us at Kauffmann's that Faith Guitars is a brand we need to introduce to our community of passionate guitarists. Check it out!
see the reviews
Shop Now
Faith Naked Series
From € 599,-
"I want to build a simple guitar. Stripped of all frills. An honest guitar. A guitar that immediately shows and hears the essence of itself. Just say Naked. And I wanted to make a quality instrument.
And that's why I didn't skimp on material. I used completely solid wood. And that is unprecedented at this price level. An elegant design. And a built-in pickup for the singer songwriter who takes to the stage."
Patrick James Eggle 
shop now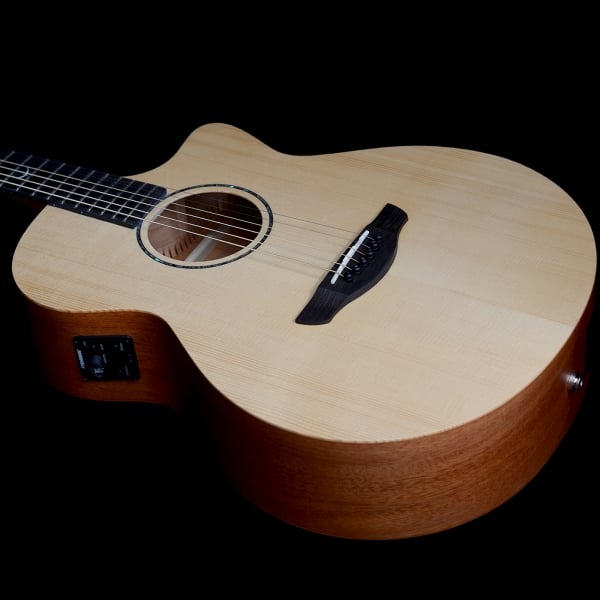 Shropshire, England-based Faith Guitars was founded in 2002 by world-renowned British luthier Patrick James Eggle, who still leads their small team of passionate and seasoned guitar experts to this day. Describing his approach to building guitars as borderline obsessive, Patrick's life has been influenced by guitars of all types ever since he was a young boy. His love for building guitars started at the age of 15, which is when he built his first instrument; a craft he has been refining ever since.
He often compares his approach to a sculptor or material artist, starting his process with a clear picture of the end result in mind. From there Patrick chooses the appropriate tonewood, bracing pattern, and touch-point materials necessary to bring his vision to life by shaping them into a guitar that is both playable and desirable. One thing you will see a lot in the build of Faith Guitars is the use of solid tonewood. Although laminated woods have their place in
instrument building, Patrick and his team prefer to use solid woods wherever possible, as they tend to mature and improve over time, allowing the guitar's tone to age for the better, much like fine wine. Achieving his much-valued functionality and desirability is something that is crucial, whether it's for one of his own UKL-built PJE guitars, or for one of his Faith designs. Why? Patrick believes that a quality instrument should be as visually effective when silent as it would be sonically when it is being played.
Faith Guitars pride themselves on the quality of their instruments, as well as the quality of the craftsmanship that goes into making them. And rightfully so. Faith Guitars are manufactured in Indonesia by a family-operated workshop, staffed by experienced woodworking professionals and exceptionally trained Luthiers. All the tonewood that is used for making Faith Guitars is sourced sustainably and with the utmost care, as it is a key contributor to the quality of the guitars they build. The spruce, maple, and cedar used for building Faith Guitars is FSC certified and sourced from verified tonewood timber merchants across Europe and North America, with the exception of maple used for the maple binding found in Faith Guitars. This particular maple is purchased in pre-cut lengths from China or Korea,
where it was harvested. Mahogany, Trembesi, Ebony, and Rosewood are sourced locally in Indonesia through official, government certified, and accredited timber merchants, which also reduces the distance travelled by the tonewoods before they are used for manufacturing. All timbers which are native to Britain or Europe are sourced through specialist timber merchants in the UK, and can predominantly be found in Faith Guitars' Signature models. 
One thing Faith Guitars cannot claim is to be 100% Vegan Friendly, as they use traditional Hide Glue for fixing the end of the fingerboard to the guitar body – much like 99% of traditional guitar builders in our industry. The hide glue, purchased from certified US guitar luthier
merchants, is made of processed animal hide and makes it possible to remove the glue with heat if the neck of the guitar ever needed to be replaced. While not vegan friendly, this does allow Faith Guitars to easily prolong the lifespan of their instruments by repairing and replacing certain parts. 
When it comes to ethics and sustainability we certainly appreciate their transparency when talking about their material sources, certifications, and process – all of which can be found at length on their website. Should you be left with any additional questions, feel free to contact the Faith Guitars team directly via the contact form on their website.
Watch the build!
Super-Limited-Edition Faith Monarch Series by Patrick James Eggle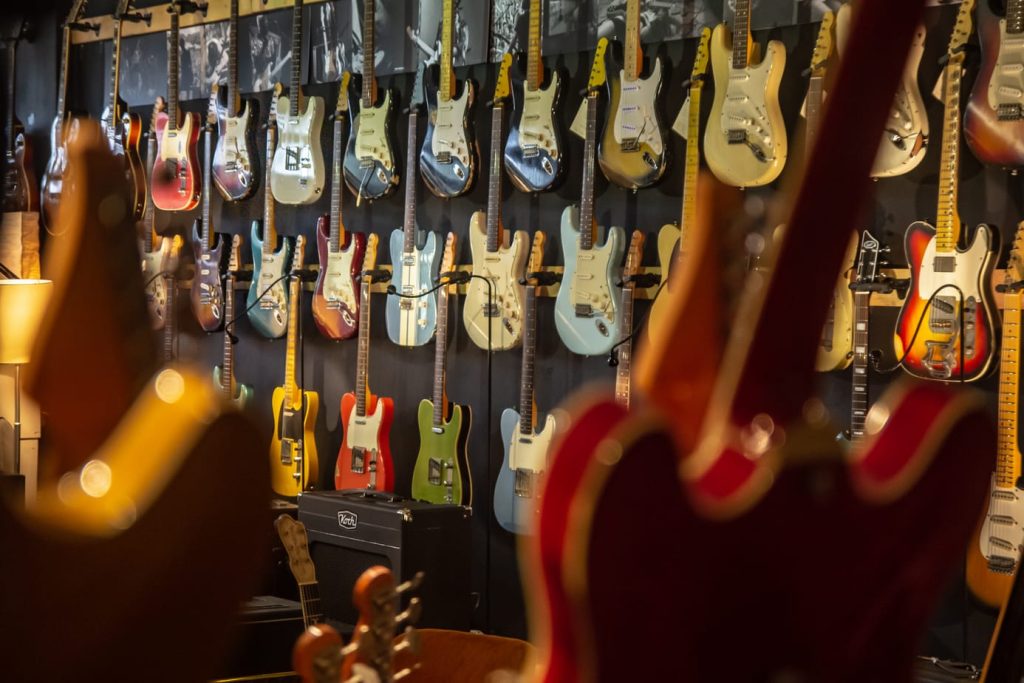 Lets talk Faith Guitars
We are here to help with anything you might like to know about our Faith guitar collection. We have a large collection of both acoustic and electric Faith guitars. In addition you can find brand spanking new guitars and used. Drop us a message or give us a call!
Private Studio Session
Looking to give our Faith guitars a try? Book a private studio session here at our store. Touch, smell and hear the guitar you have been thinking about before you pull the trigger on a purchase.
Get in touch
Book a session
FAITH NAKED SERIE OVERZICHT
Faith Guitars geeft je een overzicht van de Naked Serie. Een gitaar in een elegante, eenvoudige uitgeklede uitvoering. Eerlijker wordt het niet. En het is een hele uitdaging om meer gitaar voor je geld te vinden.
VENUS NATURAL VERGELEKEN MET DE HI-GLOSS
Het populairste model van Faith is zonder twijfel de Venus. En die is er is veel verschillende uitvoeringen. Mike en Pete van Acoustic Paradiso nemen er twee onder de loep. Is de Hi-Gloss het extra geld waard?
LEGACY SERIE, EARTH, MARS EN NEPTUNE
'Is dit de beste gitaar op aarde?' vragen de jongens van Acoustic Paradiso zich hardop af. Oordeel zelf, kijk de video en kom ze eens proberen.
FAITH NEPTUNE NAKED BABY JUMBO
Een groot geluid uit een 'kleine' Jumbo. Ervaar hoe groots een eenvoudige gitaar kan klinken in deze demo van Guitar Interactive.
Met hun smaakvolle Trembesi houten uiterlijk trekken ze aandacht genoeg.  Maar wat ziet er onder dat mooie plaatje? Guitar Interactive gaat op onderzoek uit.
CLASSIC BURST 12TH FRET DREADNOUGHT
Bij een 12th fret gitaar sluit de body aan de hals ter hoogte van de 12e fret in plaats van de 14e. En dat heeft grote gevolgen voor geluid en bespeelbaarheid. Finger-pickers opgelet!
FAITH VENUS NAKED MAHOGANY DEMO
Hoor en zie de Faith Venus Naked in deze video van Guitar Interactive. Dit is de Mahonie versie. En daardoor net iets je duurder dan het instapmodel.
FAITH MERUCY PARLOR GITAAR
Ze worden steeds populairder de parlor gitaren. Door hun compacte vorm zijn het extreem comfortabele bank-hang-lig wondertjes. En ze klinken nog ook.
INTERVIEW MET PATRICK JAMES EGGLE
De creator zelf aan het woord over gitaar spelen, zijn inspiratie en zijn gitaren.