Maton Guitars are known for their stunningly good electro acoustic sound, which makes them ideally suited for the stage. Their guitars come in different models and styles, all of them equipped with the Maton acoustic pickup system – one of the key reasons for why their guitars sound so great live.
Why we sell Maton Guitars
At KGS, we only carry brands we truly believe in. Here are the some of the key reasons we sell Maton Guitars:
Best electro acoustic guitar on the planet. Period. The Maton AP5-PRO pickup and the solid build construction will make your acoustic sound like an acoustic when amplified. This is the ultimate on stage guitar.
Great playability due to fairly slim necks, 12 " radius and the satin finish on the neck.
Great rugged Australian looks. Using Australian woods such as Queensland maple and Tasmanian Blackwood these guitars look the outback part
There is truly nothing like a Maton guitar. Their dedication to keeping it old school and handcrafting their instruments using Australian sourced woods is what gives them their character – made with passion and soul. Their story really is an inspiring one, and just makes you want to pick up a Maton and play it.
see the reviews
Shop Now
Why Maton is "the boss" on stage
Maton's are known for their superior amplified sound. Why do Maton's sound so much better than almost all other acoustic guitars? A question that interests Baas Kauffmann immensely. We will write more about it soon. But in short, there are two reasons why Maton's win on the podium. They are somewhat 'overbuilt' and they have a genius pickup system.
Read more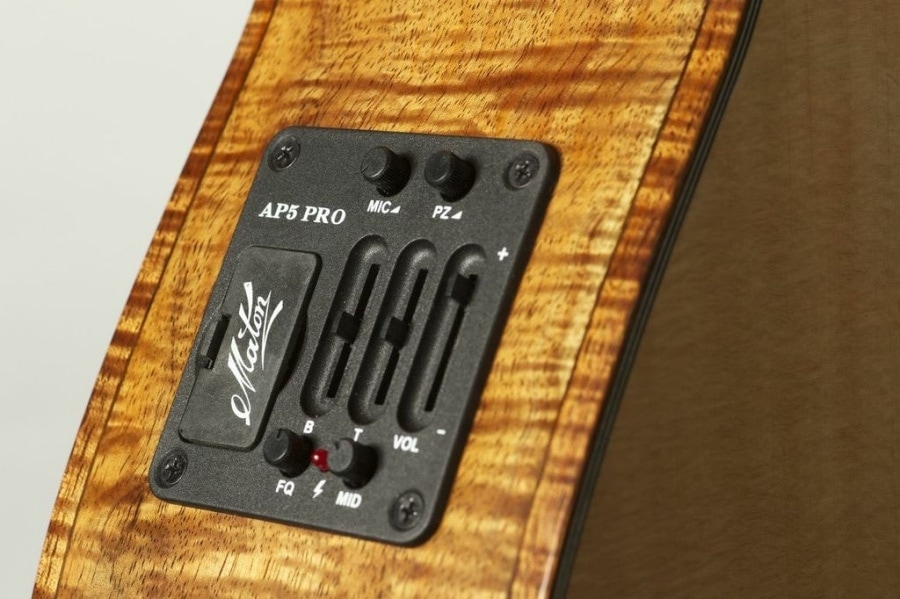 Hailing from Australia, Maton Guitars was started out of a small backyard workshop by Bill May in the 1940s. Still following the late founder's vision for making handcrafted instruments at an affordable price, Maton Guitars has firmly established itself as one of Australia's favourite and most successful guitar brands. Bill's philosophy "if you make a good guitar, the right guitar, people will want it", still rings true today, as it continues to gain acceptance on the world stage as an instrument of the highest quality. On a national level, Mation Guitars has been played by notable musicians such as John Williamson, The Finn Brothers, Paul Kelly, Tommy Emmanuel (who bought his first Maton, an MS500 model in 1959), The Seekers, George Golla and Colin Hay, all of which played a role in spreading the word, and helping the company expand its turnover. The brand's international notoriety is in part thanks to performers such as Led
Zeppelin's Jimmy Page, Creedence Clearwater's John Fogerty, and even the late Beatle George Harrison.
Today, Maton Guitars employs over 70 people and remains 100 percent family owned and operated. Bill May built the brand with his love and passion for guitar building, and even after his passing in 1993 it continues to live on through Maton's current staff members who embrace the high standards of quality on which the company was founded. One of these principles, which contributed to Maton Guitars being in a class of their own, was Bill's interest in experimenting with Australian timbers.
Following several years of explosive demand for Maton Guitars, the company moved to its current manufacturing premises in 2003. Located in Clarice Road, Box Hill, the company invested into a state
of the art factory that would help Maton Guitars boost guitar production while ensuring that their internationally recognised standard of quality was retained. Now operated by Bill May's daughter Linda and her husband Neville Kitchen, the Maton team continues to raise the bar when it comes to production standards. Their adaptation and integration of locally designed computer programs and high technology into their production process have enabled workers to save time and focus on what they do best – make quality guitars in a safe, climate-controlled environment.
It is worth mentioning that everyone who works on the Maton Guitars factory floor plays guitar, which we believe is reflected in their passion and attention to detail when crafting instruments that they themselves would want to play.
When looking at their dedicated sustainability page, it really becomes apparent that Maton Guitars has a deep respect for the natural timber resources used in the production of their instruments, and the sustainable management of all wood species used by the guitar industry. Today, a Maton Guitar embodies two fundamental pillars of sustainability: taking into consideration and responding to resource availability, as well as the optimisation of resource use efficiency.
The brand puts these claims into practice via their pioneering use of local Australian tonewoods as an alternative to timbers which are difficult and expensive to source for North America and other parts of the world. Using locally grown and sourced Blackwood, Bunya timbers, and Queensland Maple gives them not only a competitive edge when it comes to price, but also enables them to significantly reduce the distance their tonewoods have to travel before being used for manufacturing. Maton Guitars continues to invest in the
research and development of other alternative tone woods, especially for fingerboards, faces, and bridges.
A transparent overview and extensive breakdown of where Maton Guitars sources their materials, the labor standards they employ and uphold, as well as the certifications and awards received for their sustainability efforts can be found on the sustainability section of their website.
DOWN UNDER STAGE READY
Have a listen to one of our favourite Maton guitars, the 808 Australian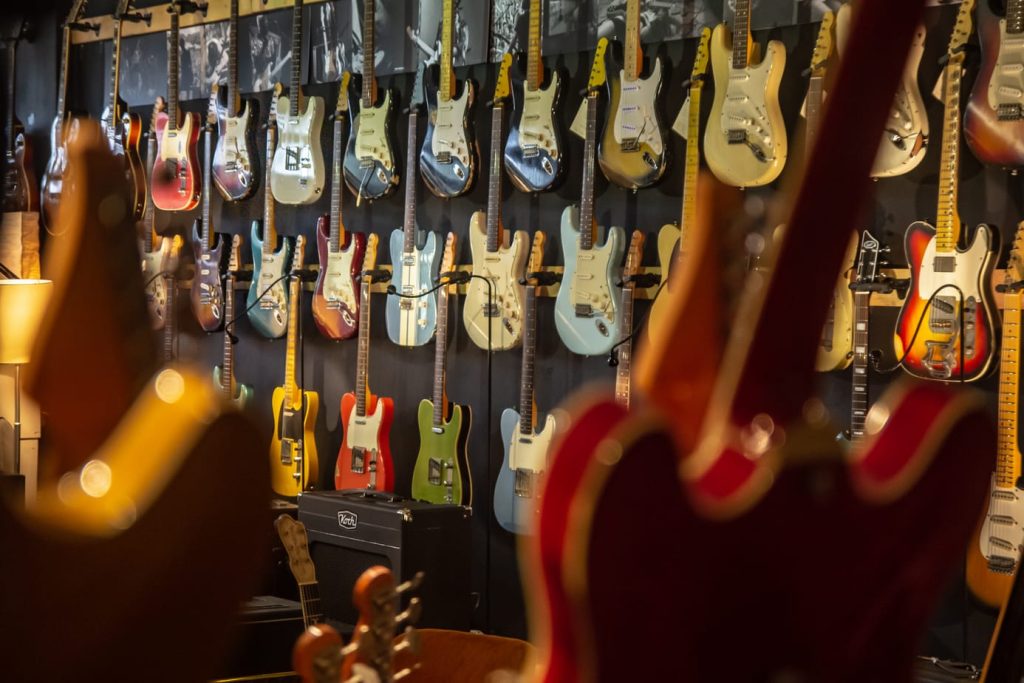 Lets talk Maton Guitars
We are here to help with anything you might like to know about our Maton guitar collection. We have a large collection of electro acoustic Maton guitars. In addition you can find brand spanking new guitars and used. Drop us a message or give us a call!
Private Studio Session
Looking to give our Maton guitars a try? Book a private studio session here at our store. Touch, smell and hear the guitar you have been thinking about before you pull the trigger on a purchase.
Get in touch
Book a session
Tash Sultana briefly shows us what a 12 string guitar can give you. And also lets us hear for a moment that a Maton is a very respectable guitar even un-amplified.
Maton is definitely not just for fingerpickers alla Tommy Emmanuel. Slash and Miles Kennedy play GNR song Civil War. Maton plugged in!
The 808 series is Maton's most famous guitar. With the SRS series there is now also a very affordable 808. We tested the SRS in the store and quickly came to the conclusion that it is not inferior to its more expensive brothers.
Near Melbourne, 70 proud Australians build their Maton guitars. A look behind the scenes.
ERIC JOHNSON ACOUSTIC RIG RUNDOWN
Premier Guitar talks to Eric Johnson about his acoustic stage ste-up. Maton and AER are the basic ingredients.
THE SECRET OF MATON AP5 PRO PICK UP
Ian Robinson is the man behind the AP5 Pro pickup system. He explains the improvements Maton has made. Disclaimer: lots of tech-talk.
TASH SULTANA ON THE MATON SOUND
Tash Sultana played her way up from street musician in Sydney to her current world tour. She is best known for her quirky loop-songwriting style. Courtesy of the Acoustic Vault.
REVIEW MATON 808C  MICHAEL FIX SIGNATURE
Adam Rafferty demonstrates Micheal Fix's signature 808 model. And why Maton is his choice for amplified acoustic guitar playing.
TOMMY EMMANUEL ON HIS MATON SOUND
Before his concert in Berlin, TE finds some time to talk about his Maton sound.