The new Britisch invasion has arrived. From the country that brought us the Beatles, Oasis and Motorhead. The land from which Marshall and Vox planned their assault on our hearing. But try and name one British guitar brand with a truly legendary history? Right, it is hard to think of a name. Enter PJD Guitars. They bring us a serie of timeless and very inspiring guitars with a huge rock & roll vibe.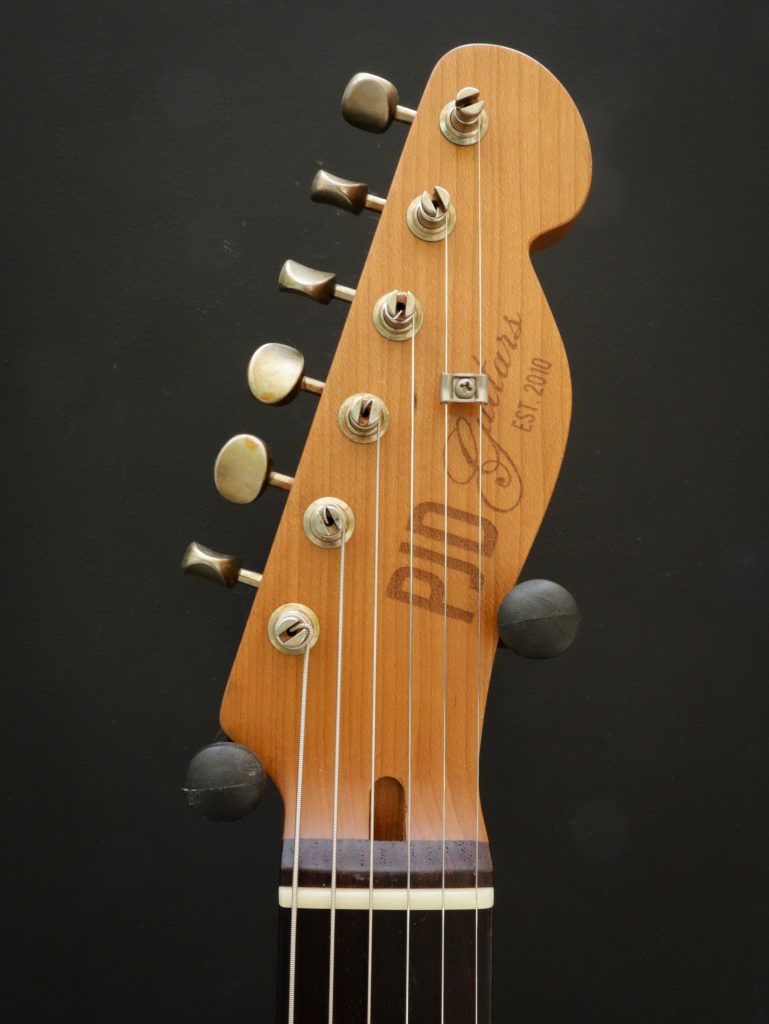 Why we sell PJD Guitars
At Kauffmann's Guitar Store we only carry brands we truly believe in. Here are the some of the key reasons we sell PJD Guitars:
Hybrid designs with a great rock & roll vibe
Hand build in Europe (UK)
Many pickup configurations available
Stunning looks
We love smaller guitar brands that have something to prove. They will work harder, be more creative and offer top customer service. PJD may be next big thing to come out of the UK!
See the reviews
Shop Now
CREAM-T Guitars
Made by PJD
Although Cream T is a different brand their guitars are made in the PJD workshop. The Cream T Aurora is a guitar co-desiged with Billy Gibons and has some unique features. One of them is the pickup swapping system. In just second you can change the pickups on your guitar. The guitars come with extra pickups out of the huge Cream-T pickup range.
see all cream-T guitars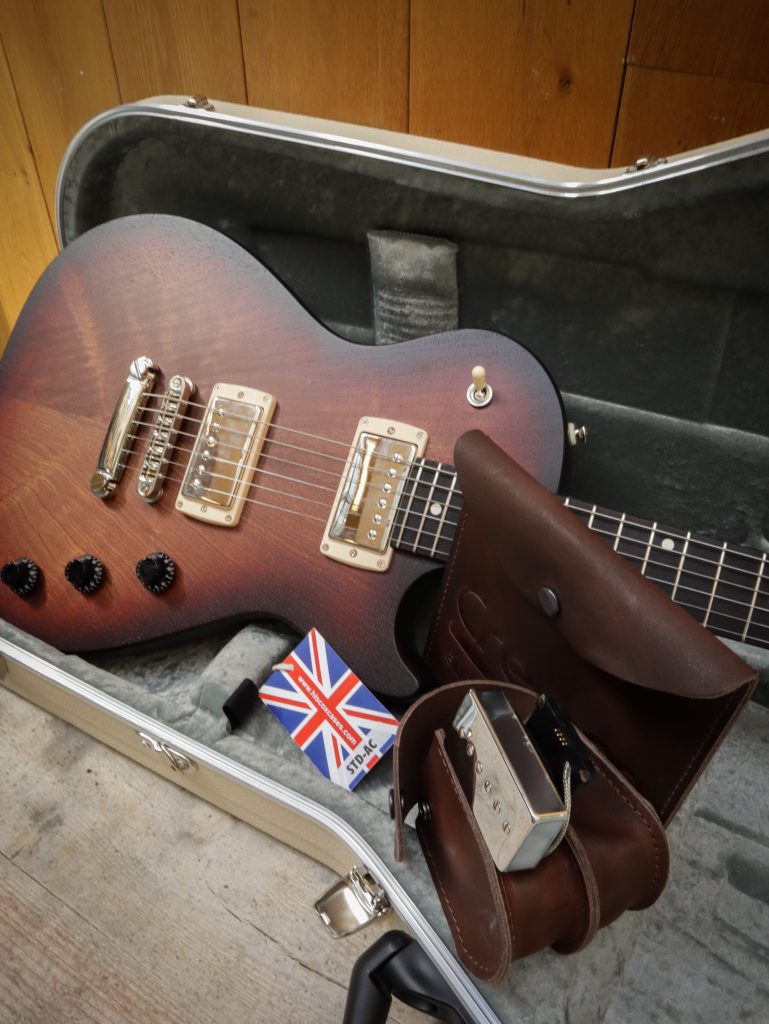 PJD Guitars was founded in 2010 by Leigh Dovey. The name PJD is dedicated to the memory of his late father who was a prop maker for the Royal Opera House in London's Covent Garden. Leigh started working with knowledge of woods that he picked up from his father and with the tools and small workshop that his farther left him. Leigh spent his days working as a sound and video engineer at the Royal Opera House while honing his craft in guitar building in the evenings. He was lucky to be able with and for some great artists in his early guitar building days. And that gave him the confidence to grow his skills as a guitar maker.
Slowly but steadily Leigh expanded his business and moved up to York to a bigger workshop and started to employ crafts men to help build and grow his company.
Starting a guitar building business in Europe is not an endeavour that is logical at first glance. After all, the USA has the name and the legacy and Asia and Mexico have cheap labour. PJD proves that it is possible to build an original guitar, with the potential to claim its place between the big names, built it in Europe and at a reasonable price level.
A PJD guitar can best be described as the outcome of a creative melting pot. PJD uses familiar concepts such as single cut bodies or thinline offset bodies with necks that have a 25,5″ scale and six on a side headstock. You could call this a hybrid style. The combine this with adventurous finishes and smart pickup choices to create something that has a lot of rock & roll vibe. A first impression is that of guitar that has been around for some time. And yet they also have a surprisingly refreshing element to them. It is hard to put your finger on what it is exactly but have a look at the guitars and you will certainly feel the need to explore them a bit further.
PJD offers three models. Their most basic and most recognisable guitar is the Woodford. It looks somewhat like a hard tail strat but much less polished. More like working man's tool. The St John is a much more original looking guitar. With a compact offset body this guitar makes you curious for its sound. The Carey is a original take on a single cut. The Carey and the St John both have a thinline body option. And that really adds to the visual and playing experience.
A small but growing group of artists have discovered PJD as well, Mark Sheehan fro. the Script plays a Carey, as does Amy Shaw. Tom Rylance from the Lottery Winners plays a St John Elite. And right they are to play an original instrument that thicks all the right boxes.
PJD IN ACTION
Jesse plays the PJD St John Elite.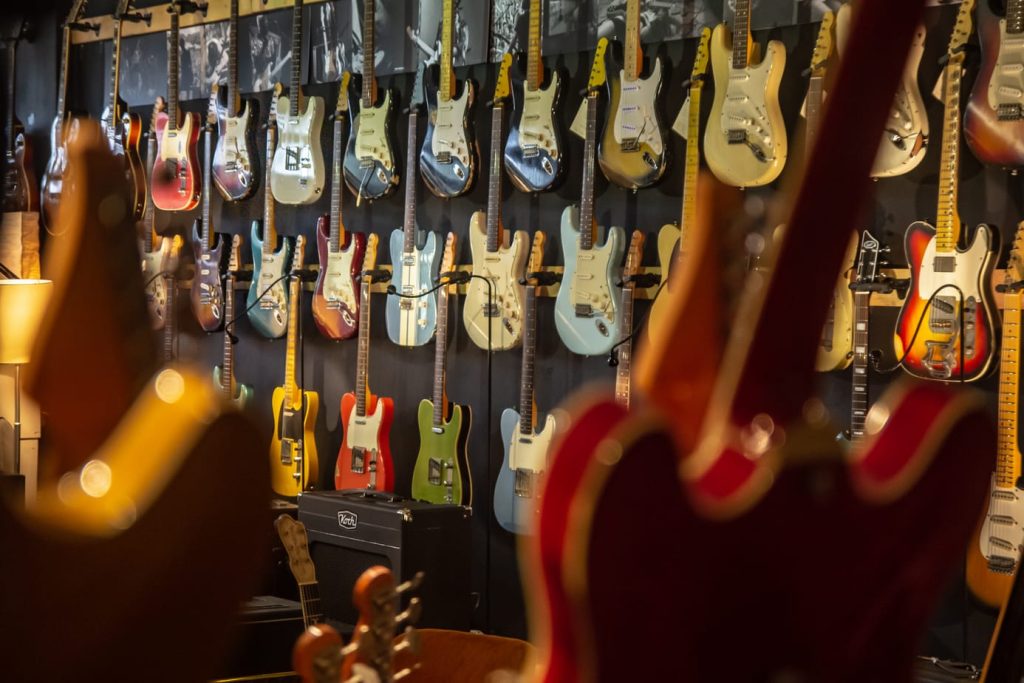 Lets talk PJD Guitars
We are here to help with anything you might like to know about our PJD guitar collection. We have a large collection of PJD guitars. In addition you can find brand spanking new guitars and used models. Drop us a message or give us a call!
Private Studio Session
Looking to give our PJD guitars a try? Book a private studio session here at our store. Touch, smell and hear the guitar you have been thinking about before you pull the trigger on a purchase.
Get in touch
Book a session
DARREL BRAUWN IS SERIOUSLY IMPRESSED
"I LOVE featuring brands that may not be house-hold names yet, but are making really high quality products! Today, I'm looking at the incredibly cool PJD CAREY ELITE!"
GUITARIST MAGAZINE PLAYS THE WOODFORD AND ST JOHN
Who better to put guitars to the test than UK Guitarist Magazine?
GUITAR GEEK ANDY FARRIS CHANGED HIS MIND
His PJD experience changed Any Farris his mind about guitar finishes. That and more in this review.
PJD CAREY ELITE DEMO BY THE GUITARIST
The Carey is an original take on a classic single cut. See how that works out for Jamie from Guitarist
GUITAR SUMMIT WEB CAMP REVIEW
John Bailey on a Carey during Guitar Summit. By the way if you want to go to a great Guitar Trade Show you may want to consider heading to Mannheim for the Guitar Summit!
JPD FACTORY TOUR AND HISTORY
PJD Founder Leigh Dovey takes us on a factory tour and talks about guitar building and his new workshop.