High quality, brilliant-sounding, and hand-crafted in Europe doesn't necessarily mean it has to cost you an arm and a leg. Dowina Guitars is a perfect example for this, as their guitars offer a great price to quality ratio. Their flat top Antique series is optimised for sound quality and playability, making their guitars the perfect choice for daily playing and practicing.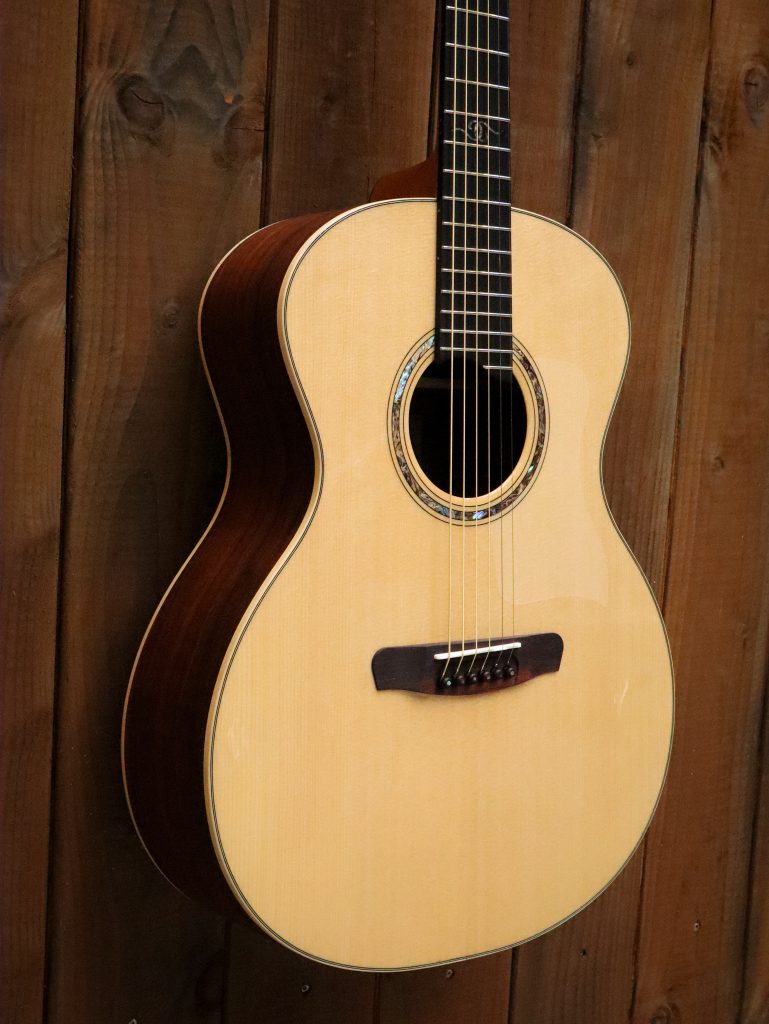 Why we sell Dowina Guitars
At KGS, we only carry brands we truly believe in. Here are the some of the key reasons we sell Dowina Guitars:
Hand built in the EU
Superior artisan craftsmanship and uniquely voiced guitars
Off the beaten track when it comes to wood selection…think Madagascar Rosewood, Ebony, Cocobolo and Padauk
Naturally, if we decide to become an official dealer of a certain brand, it's because we believe they make great guitars. But don't just take our word for it. We invited Dutch guitarist Martijn van Agt to come in and play the beautiful range of Dowina Guitars we proudly carry in our store.
See the reviews
Shop Now
Dowina Master Series
From € 1995,-
Dowina builds guitars with exciting woods. This guitar has Ebony back and sides and a thermo cured Dolomite Spruce top. It looks stunning and sounds amazing. Quality guitars hand build in Europe.
shop now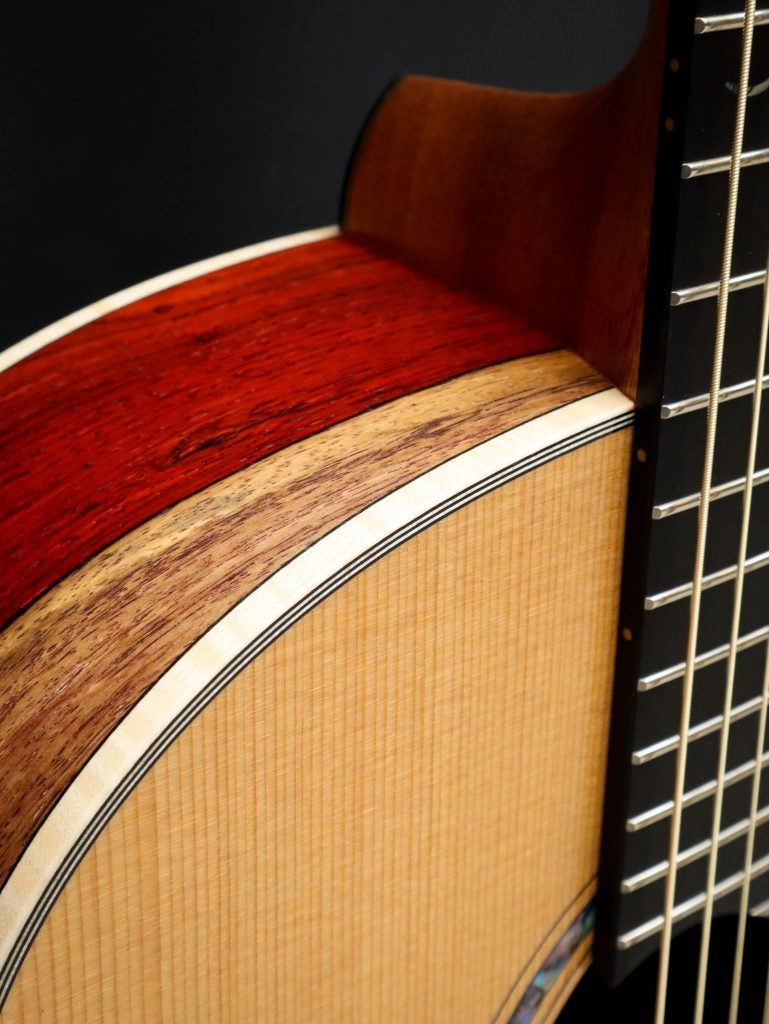 Dowina Guitars – pronounced Davina Guitars – is a small guitar shop based in Bratislava, Slovakia. What started as a violin workshop, overlooking the castle of Devin, evolved into a concept shop for building unique guitars that are inspired by the violin maker's expertise, experience, and intuition. What almost sounds like a story out of an Eastern European fairy tale, the Dowina operation continued to grow, and in 2010 moved to a larger property in Devinska Nova Ves, where their production center, warehouse, custom shop and administration are located.
Today, Dowina Guitars is known for hand-crafting acoustic guitars that are known for their impressive price to quality ratio, sound quality, and playability. They exclusively use premium tonewoods for their acoustic guitars. This, paired with their exceptional build quality and craftsmanship would have you believe that their guitars would cost a fortune; but they don't. Quite the opposite, in fact. Dowina Guitars are some of the best priced instruments we have come across at Kauffmann's Guitar Store, especially when you consider that they feel great, sound great, and are built exclusively in Europe.
You would think that with a price like that, their building process has to be automated or simplified to some degree. But in fact, Dowina Guitars can hold their own compared to some of the top guitar brands out there when it comes to their building process. The team at Dowina uses premium tonewoods which are specially hand selected for every guitar they build. This, in other words, means that a block of wood is only selected if it passes the resonance test, conducted by a master luthier. Each piece of potential tonewood is knocked, tapped, and inspected closely before it goes into production, as Dowina Guitars want to make sure only the best woods are used for their instruments. It doesn't stop there though. Before the wood they use for their guitars even makes it into their workshop, it goes through a strategic sourcing criteria. Spruce, for example, is known to grow in many different places around the world, each differing slightly due to their origin's temperature, humidity, and environment. So, anytime the master builders at Dowina Guitars want to use Spruce, they will source it exclusively from the Dolomite Alps, as the Spruce that down there yields wood
with a higher density, which will therefore give their guitars more resonance and attack, when compared to using typical, German grown Spruce like many other guitar brands out there. This approach to wood selection and sourcing was used by legendary violin builders Amati and Stradivari, and if Dolomite Spruce was their secret weapon, then the master builders at Dowina Guitars are definitely on to something. So, as you can see, for Dowina Guitars, the devil is in the details, and we believe that is one of the reasons they make such beautiful instruments.
Once the wood selection for each individual guitar has been completed, the master builders will use it to construct the body shapes of the guitar. With Dowina Guitars, you will typically see several familiar body shapes, such as the famous dreadnought, grand auditorium, as well as several slightly smaller 000 style guitars. The main differentiator in the Dowina Guitars range comes down to the woods they use. These include guitars made with both Cedar and Spruce tops. For their backs and sides, Dowina Guitars typically use Mahogany, Rosewood, Sapele, and even Pau Ferro.
Our Dowina demo
An artisan guitar experience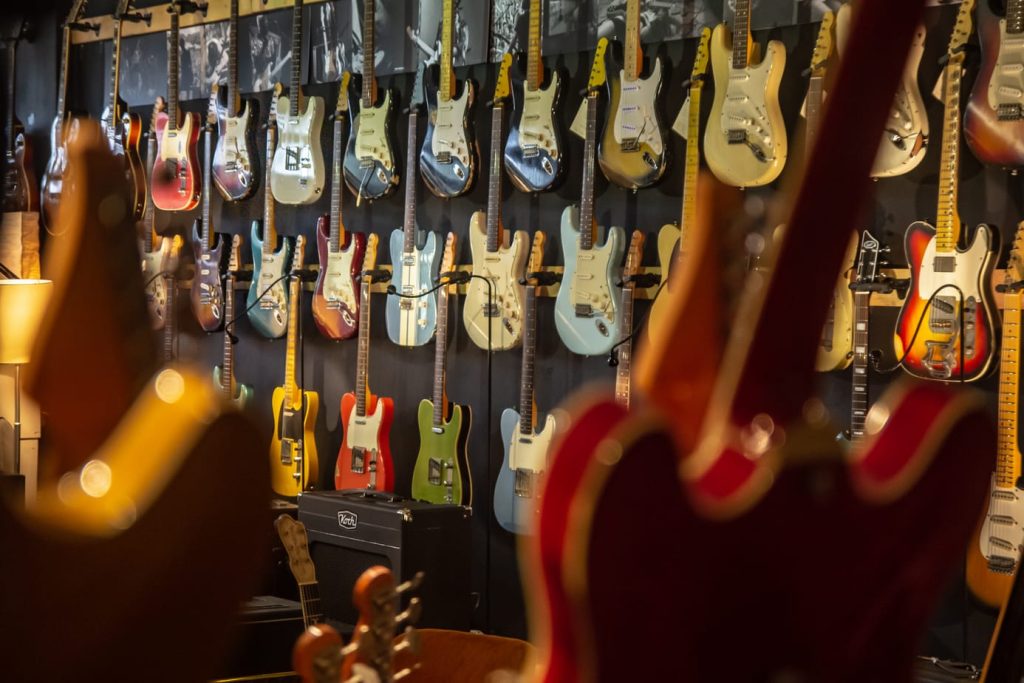 Lets talk Dowina Guitars
We are here to help with anything you might like to know about our Dowina guitar collection. We have a large collection of acoustic Dowina guitars. In addition you can find brand spanking new guitars and used. Drop us a message or give us a call!
Private Studio Session
Looking to give our Dowina guitars a try? Book a private studio session here at our store. Touch, smell and hear the guitar you have been thinking about before you pull the trigger on a purchase.
Get in touch
Book a session
Martijn van Agt gives the Acero DC a try
Martijn takes a dive into this unusual maple guitar. Spoiler it sounds surprisingly warm.
Martijn van Agt on the Dowina Amsber Road DC
Dutch guitarist Martijn van Agt plays Amber Road Dreadnought with a cutaway. Is the magic in the roasted top or is it in the handtuning of the top?
An artisan guitar experience
Martijn gives his views on Dowina guitars.Dowina Guitars are hand build in Slovakia. They combine a long history of instrument building with creative artisan design. Dowina builds with a great variety of woods. Madagascar Rose Wood, Strip Paduk and Cocobolo to name a few of the woods used. Giving us amazing visual and tonal surprises.