A smalle team craftsman lead by Maybach Founder Toni Götz is reviving the build quality of the 'big brands" in their early days. When guitars were all that mattered. Classic guitar models that we have come to love are reintroduced at a quality and price level that is very hard to beat. Even for the big names them selves. If you care more about the quality and the vibe of the instrument then about the logo that is on the headstock; Maybach may just be the guitar for you.
Why we sell Maybach Guitars
At KGS, we only carry brands we truly believe in. Here are the some of the key reasons we sell Maybach Guitars:
Exceptionally well build and aged instruments
Custom shop quality at fair prices
Build in Europe
Maybach builds serious reproduction of legendary models. A small team of experienced guitar builders handcraft guitars. Because each instrument is seen as an individual tool for a musician the result is a quality that bigger well known brands find hard to match.
See the reviews
Shop Now
"Under the spell"
My personal '65 Albatroz
My personal Albatroz € priceless,-
Some years ago Maybach sent me an '65 Albatroz that I could just not put down. You know the feeling when a guitar just mesmerises you? This one had me completely in its spell. But driven by my ambition to put food on the table for my family, I sold it to a good customer. Which lead to instant and relentless regret. After months of begging and even threatening him to never ever sell him a guitar again he sold it back to me. Now I always think there is something on a guitar that can be improved. Sometimes I am right. Most of the times it leads to nowhere, but I enjoy the experiment none the less. So this guitar has had many invasive surgeries performed on it.
So here it is my friends, in its most recent reincarnation. Refinished the guitar because I wanted a color that no one else has. So I applied a mixture of various gold finishes and the guitar came out green. But I insist it is gold anyway just to confuse my mystified co-workers. Added a tremolo, not for sound but for better weight distribution as the Albatroz can be slightly top heavy. Added a strat pickup in the neck. It sounded awesome, but then I discovered that a P90 sounded even better. Then I stumbled upon a set of Cream-T Whisker buckers and those are in it now. It has become a spirited guitar and it is one of my favourites.
shop now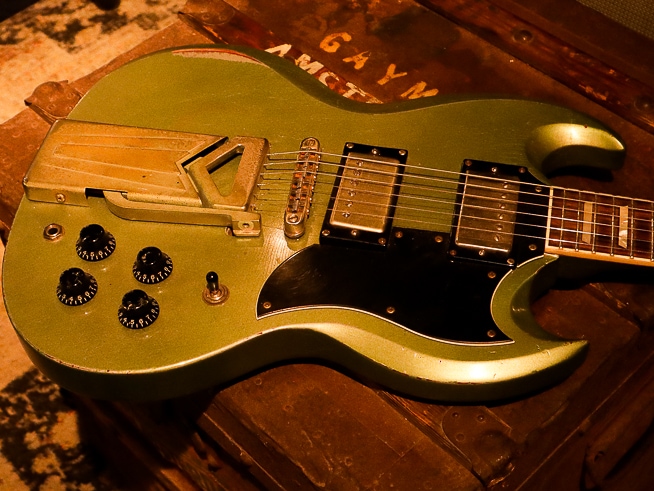 No custom shop wallet needed
Maybach Guitars was founded by Toni Götz. Trained as a classical musician he has a keen ear for music and sound. Toni is also a vintage guitar aficionado. But most of all Toni has a drive to create instruments that are beautiful, instruments that appeal to us, speak to us. Like they have a spirit of their own. That is why Maybach came into being in what it is today. A brand and a workshop that create custom shop quality instruments for players. Also for players that do not have a custom shop wallet. And let's face it that includes a lot of us.
Back to the truth
Maybach is in the business of reviving classic electric guitar models on a quality level that requires a high standard of experience and personal dedication of the builders. "When the big brands started out they were innovative and very quality minded. They listened to their customers, visited them while they were out on the road and were very interested in how guitarist used their instruments and in what circumstances they were used. All to improve their instruments. The personal involvement of their staff was crucial to the product. And that is what we try to achieve again here at Maybach" says Toni.
Classic guitars for traditional guitarist
Maybach decided to go with the classic electric guitar models. For they are great designs and also because guitarist are quite traditional. They know what they like and they like what they know. Maybach makes no secret of where their inspiration comes from. Their commercial pay-off is "Back to the Truth" and that says it all when you are committed to bring iconic models back to level at their original quality level.
Since 1985 Toni and his team have been developing their line of guitars. Currently there are eight different models in the range. We at Kauffmann are especially drawn to the Gibson inspired guitars of Maybach. The Lester, the Albatroz and the Capitol. For some reason Maybach succeeds in its mission to put a soul in almost every guitar they make. These instruments compete with the original designs in many ways.
Nice feature is that most of these guitars come with an option for a full sized neck, a thick round one that one might find on a '59 (re-issue) or a slim taper version of it. The latter is much less bulky and resembles the necks that are found on '60 (re-issue) guitars.
One of the latest additions to the range are the Little Wing guitars. The Little Wing is a semi hollow guitar with a smaller body, a slightly bigger neck with an open headstock. You could call it an electric version of a parlour guitar. This thing looks like it is made for finger picking.
When should you consider a Maybach Guitar?
Like Toni says "we build guitars for people that care more about quality than what logo s on the headstock". Also if you are looking for an instrument that comes alive in your hands. Something with a little bit more soul and mojo than your average factory build guitar. As Maybach guitars have been aged delicately no two guitars are alike. The aging is very very subtile in most cases. And a nice touch is that the nitro finish will allow you to make you own visible marks on the guitar within months. All you have to do is play it. We have seen it happen in our store…
That said it is obvious that we do play Maybach guitars ourself. In fact the Maybach '65 Albatroz is a steady piece in Baas Kauffmann's personal line up.
Guitarists Who Love Maybach
Our MAYBACH Demo
See the Maybach Capitol in action.
Lets talk Maybach Guitars
We are here to help with anything you might like to know about our Atkin guitar collection. We have a large collection of Maybach guitars. In addition you can find brand spanking new guitars and used models. Drop us a message or give us a call!
Private Studio Session
Looking to give our Maybach guitars a try? Book a private studio session here at our store. Touch, smell and hear the guitar you have been thinking about before you pull the trigger on a purchase.
Get in touch
Book a session
HOW A MAYBACH LESTER ACTUALLY SOUNDS
Baas Kauffmann himself on a Lester Goldrush.
BEHIND THE SCENES AT MAYBACH
Have a look at how Maybach builds its guitars.
GIBSON LES PAUL VERSUS MAYBACH LESTER
In this video by Guitar Bonedo a 2018 Gibson les Paul is played against a 2018 Maybach Lester. No talking just playing. You decide what you like!
AN OVERVIEW HOW GOOD ARE MAYBACH GUITARS?
Sam from Guitar Village gives us a nice overview and comparison of Maybach Guitars
Guitarist Magazine demo's the Little Wing Flat Top Cutaway.
Lester '60 Cherry Lane testdrive by Bart Dietvorst
In just 2 minutes Bart shows you what a versatile rockmachine the Lester is.