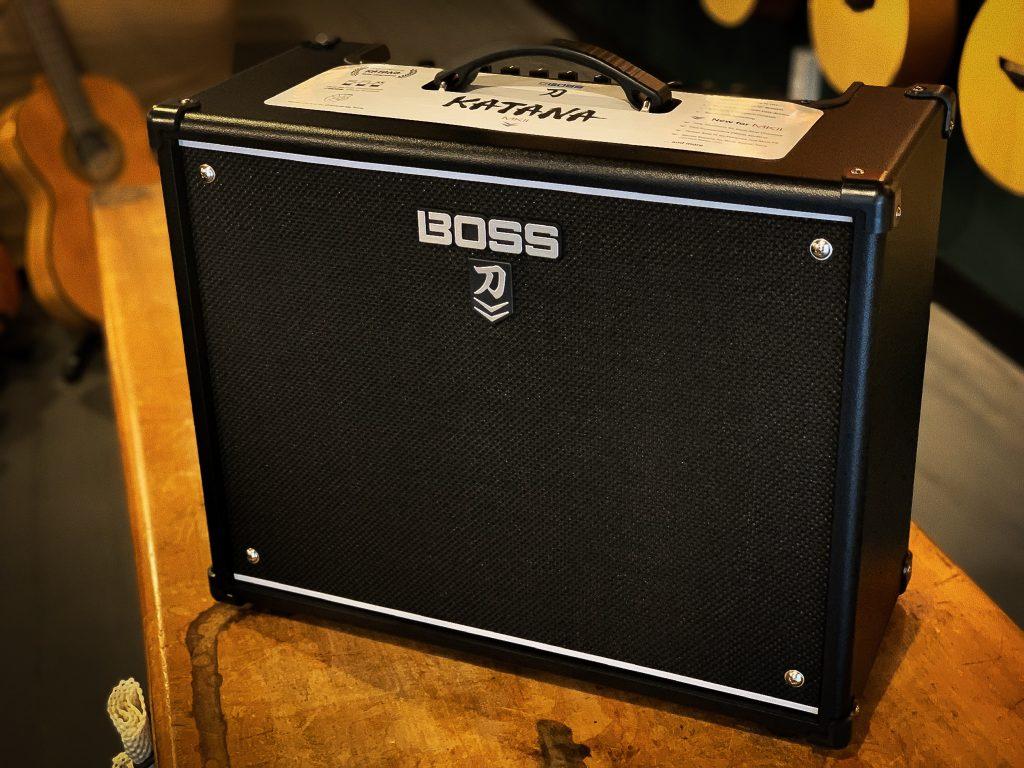 5 versterkers, 5 effecten
De vijf primaire amp characters van de Katana MkII bieden alles: van organische vintage tonen tot moderne high-gain sounds; plus een speciale voice geoptimaliseerd voor elektro-akoestische gitaar.  De Katana MkII bevat nu vijf categorieën van simultane effecten. Onafhankelijke Booster-, Mod-, FX-, Delay- en Reverb-secties komen elk met drie variaties: in totaal zijn er dus 15 kant-en-klare effecten om uit te kiezen.
+ Shipping cost calculated at check-out
+ Your product ships within 2 working days
+ Fair Trade return within 14 days
+ Video Call demonstration for amps and guitars available.

Request Demo

Send Whatsapp

Send E-mail
Request a Video Call Demo
Boss Katana 100 MK II
https://www.kauffmannsguitarstore.com/product/katana-100/
What would you like to know?
Boss Katana 100 MK II
https://www.kauffmannsguitarstore.com/product/katana-100/
SPECIFICATIONS
Podiumklare 100-watt combo amp met een custom 12-inch speaker
Tube Logic-ontwerp zorgt voor buitengewone power, autoritaire punch en een afgetekende présence
Vijf unieke amp-karakters (Clean, Crunch, Lead, Brown en Acoustic), plus nieuwe voice- variaties voor elk
Vijf onafhankelijke effectsecties (Booster, Mod, FX, Delay en Reverb), met in elk drie selecteerbare variaties
Speciale Pedal FX voor via de voet bedienbare wah en pedal bend
Bijgewerkte BOSS Tone Studio software voor het personaliseren van je sound met meer dan 60 verschillende BOSS-effecten, channel- en global-EQ's, aanpasbare routing en nog veel meer
Power Amp In voor pre-amps, modelers en multi-effects
Stereo Expand out om te linken met een tweede Katana MkII (alleen beschikbaar op de 100-watt modellen)
Acht Tone Setting-geheugens voor het opslaan en opnieuw oproepen van alle versterker- en effectinstellingen
Power Control voor een opgedreven versterkerklank en respons bij lage geluidsvolumes
Drie Cab Resonance-opties (Vintage, Modern en Deep), selecteerbaar via het paneel of BOSS Tone Studio
Mic'd cabinet emulatie op de lijn-, USB- en phones/recording-outputs, met drie Air Feel-settings beschikbaar via BOSS Tone Studio
Optionele GA-FC foot controller voorziet volledige amp controle, inclusief Tone Setting-keuze, effecten aan/uit, expression pedal control en meer
Verbindingsopties voor twee voetschakelaars of een expressiepedaal
Effect-loop, met selecteerbare seriële/parallelle bediening en aanpasbaar niveau in BOSS Tone Studio
Professionele set-ups beschikbaar via BOSS Tone Central