The rebirth of a classic
The slope shoulder dreadnought is like a phoenix rising. They were first introduced decades ago, then they became a bit obscure. But now they are back, the slope shoulder dreadnought guitar is doing a magical revival. And for good reasons. But unlike the past where most slope shoulder D's were almost exclusively Gibsons, now there are a variety of builders who offer a slope shoulder D.
So, where does the slope shoulder dreadnought comes from?
A slope shoulder dreadnought, also known as a "slope-shouldered dreadnought" or "slope D," is a type of acoustic guitar body shape that combines features of both the dreadnought and the slope-shouldered design.
The dreadnought is a popular and versatile acoustic guitar body shape known for its large size, deep body, and broad shoulders. The dreadnought was originally designed by the C.F. Martin & Company in the early 20th century. It has since become one of the most widely used and recognized guitar shapes. Dreadnought guitars typically offer a powerful and balanced sound with strong bass response.
The slope shoulder design refers to a modification of the dreadnought shape where the shoulders of the guitar body have a rounded slope, rather than the more squared-off shoulders of a traditional dreadnought. This modification was introduced by Gibson in the 1930s with their J-35 and J-45 models, and it became associated with warm and mellow tones, especially favored for folk and blues playing styles.
This guitar was quickly dubbed "the workingman's guitar" because it was affordable. Nowadays it also nicknamed "the workhorse" mainly because of its rugged looks and unexplainable association with bearded man, smokey barrooms and the looks of the many road worn guitars that are out there. One thing is for sure, a slope shoulder D that shows that it has a bit of miles on it, is a very, very attractive and sexy guitar. The kind that you look at and you know it is going to sound awesome.
Sound signature
The slope shoulder dreadnought combines the body size and depth of a dreadnought with the rounded shoulders of a slope shoulder design. This hybrid shape aims to offer a balance between the strong projection and bass response of a dreadnought and the warm, mellow tones associated with slope shoulder guitars. The result is a guitar that can provide a powerful and rich sound, while still retaining some of the warmth and character of the older slope shoulder design.
Most Gibson J-45's were mahogany guitars and that also contributed a great deal to the direct, warm and mellow sound. But these days as more manufacturers build a slope shoulder, there is variety of tone woods, finishes, and additional features being used, to cater to different playing styles and preferences. Atkin just to name one, builds a maple slope shoulder D, as well as a mahogany one. Eastman uses mahogany and also walnut and sapele for their slope shoulders. And Taylor offers their Grand Pacific models in sapele, mahogany and even rosewood. So, there is definitely a choice to be had.
Who is playing a slope shoulder D?
As most of these guitars has a voice that is warm and mellow, folk and blues players are most likely to be drawn to this type of guitar. But as the slope shoulder offering becomes bigger and more varieties are introduced, more guitarist have a go at the slope shoulder models. Here are some notable musicians who have used or are known for playing the Slope shoulder D:
Bob Dylan: The legendary singer-songwriter and Nobel laureate has been associated with the Gibson J-45 throughout his career. He played a J-45 during his iconic performances in the 1960s and continues to use it on occasion.
John Hiatt: The acclaimed singer-songwriter and guitarist is known for his soulful blend of rock, folk, and Americana music. He has been associated with the Gibson J-45 and has used it throughout his career.
John Lennon: The late Beatles member was often seen playing a Gibson J-45 during his solo career. It became one of his preferred acoustic guitars, especially during his folk-inspired period.
Jake Smith, aka the White Buffalo, famous for his stripped-down folk and electrified swamp-soul rock. His work is sometimes moody, sometimes menacing, but always melodic. He contributed some tunes to the Netflix series Son's of Anarchy and he has been opening for Springsteen in the 2023 European tour. He plays a Taylor Grand Pacific Slope Shoulder.
Neil Young: The influential singer-songwriter and rock musician has frequently used the Gibson J-45 in his recordings and live performances. His J-45 can be heard on songs like "Heart of Gold" and "Old Man."
Brad Paisley: The country music star and virtuoso guitarist has been seen performing with a Gibson J-45 on numerous occasions. He often incorporates the J-45's warm tones into his country and bluegrass-infused music.
Our selection of Slope Shoulder D's
There is a large variety of slope shoulder D's to choose from. And you don't have to bust the bank to lay your hands on one either. Eastman offers various models starting at just under €700,- On the other end of the scale we will find the Pre-War Guitars Slope shoulder dreadnought that will set you back at least 10k. Kauffmann's Guitar Store has a large selection of these workhorses. Let's have a look.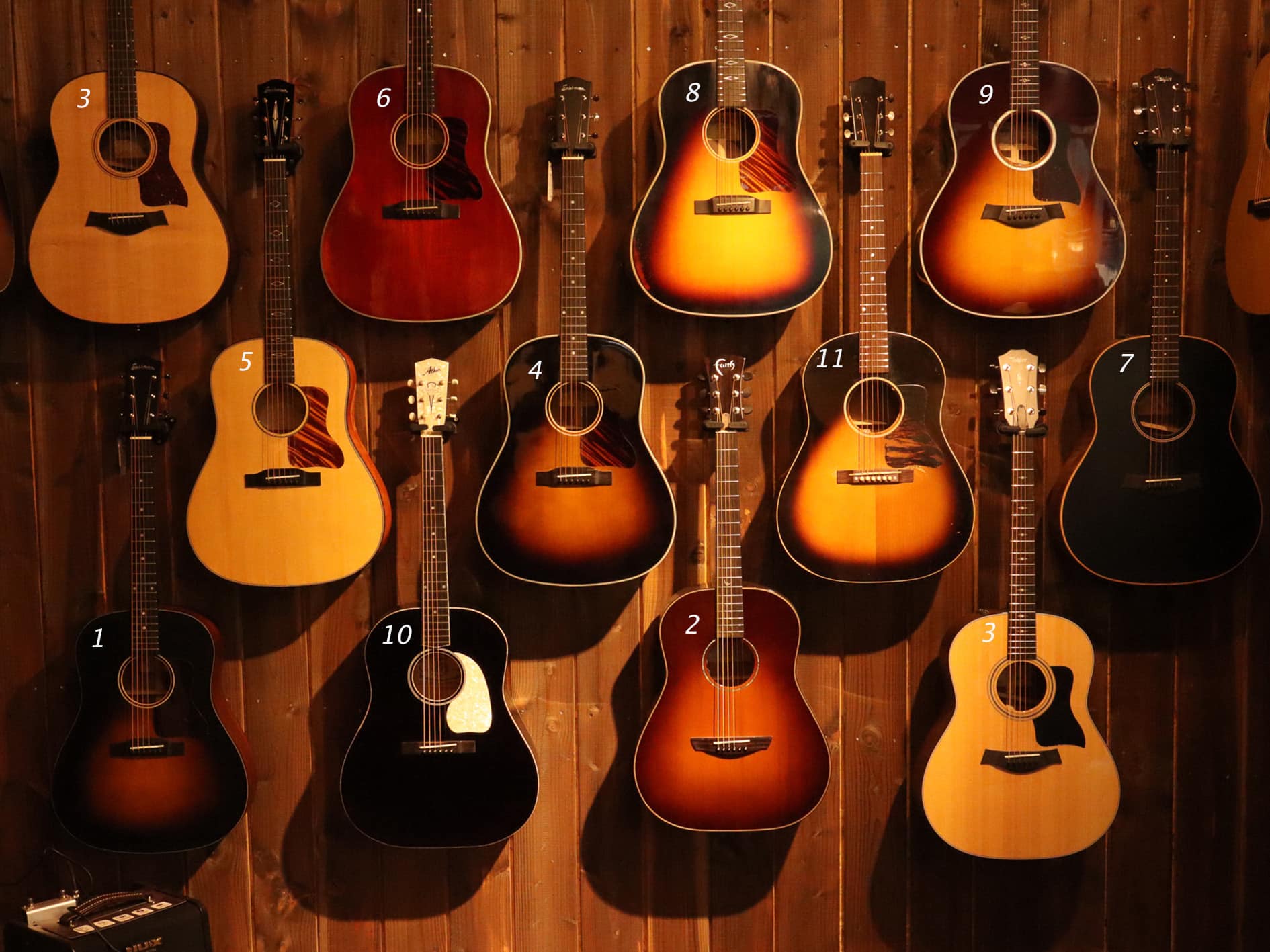 1. Eastman SS 1E
Our most affordable SSD. And it is an all solid wood guitar with a sunburst top. Looks good, sounds good, what's not to like?
2. Faith Mars Classic
It is a slope shoulder D but it features a 12th fret to body neck. It also has a slightly wider neck that will suit fingerpickers very well. Solid mahogany back and sides and a cedar top enhance the finger picker character of this guitar. Dark burst top and very nice details make this guitar easy on the eye as well. Fishman electronics on board.
3. Taylor American Dream AD17
Now this is as far away from the original design as you can get. Taylor swapped the traditional X-bracing for a new type of bracing they named V-class bracing. And it is a big improvement in both sustain and volume. The AD17 is made from sustainable wood that Taylor harvests from the inner cities of the US. And Taylor, never shy when it comes to telling their story names this wood Urban Ash. The AD17 comes without or with (AD17e) electronics.
4. Eastman E10 SS
If you are looking for something that looks like a Gibson J 45 classic at a comparable quality level but at a more affordable price, then the Eastman E10 SS might be the one. The traditional pairing of mahogany and spruce does exactly what you would expect.
5. Eastman SS 16E
This is a nice example of what a few modern touches can do to a classic design. This Eastman has a bookmatched Quarter-Sawn Amber Maple back and sides coupled with a Solid Thermo-Cure Adirondack Spruce top and that gives it a massive sound. Build as a limited edition for 2023 only.
6. Eastman 10E SS/v
On this guitar Eastman uses their violin finishing techniques. It is hand waxed and slightly aged. The reddish color of the guitar sets it apart from the pack. As does the sound. You will find it light to touch and nicely balanced.
7. Taylor American Dream Black Top
Another variation on the slope shoulder D theme. Walnut back and sides and a spruce top give this guitar a clearer voice. V-class bracing for better sustain and more volume and Taylors Expression 2 system for plugging it in when needed, complete this attractive package.
8. Eastman SS 22E/v
More builders have picked up on the walnut back and sides idea. This Eastman brings the walnut-spruce combination to another level. This is a very balanced and rich sounding acoustic guitar. Best value for money if you ask me.
9. Taylor 417e
So, what would rosewood sound like in Slope Shoulder D model? Play this Taylor to find out. It rings like a bell and it has more pronounced basses. And it has more single note definition. I would call this a modern re-incarnation of the SSD.
10. Atkin the Forty Three Black Pearloid
This is a different beast altogether. Maple back and sides give it a brighter tone. The guitar is build extremely light, making it sensitive to the touch. Black guitar with daring pearloid pickguard and headstock. If you are looking for a slope shoulder that stands out, come and try this Atkin.
11. Pre-War Slope Shoulder
Pre-War guitars builds about a hundred guitars a year. They build reproductions of old Gibsons and Martins. This is their slope shoulder. Build according to vintage specs. Dried and cured woods. Aged to perfection. This guitar sounds like mix between a canon and a piano. If you dream of a golden era slope shoulder this is a close as it gets.