Kauffmann S-model features
Kauffmann regards the S-model kinda like the swiss knife in guitars. You can do almost anything on it. It was an innovative design when it first came out. So we pay tribute to that heritage. And we build upon it.
Our S-models all have that well played worn in feeling. It's like putting on a pair of old faded jeans. Nowhere on a guitar is that feeling more distinct than on its neck. So we carefully roll the edges of the fingerboard, we take the finish of the back of the neck and we make sure the fretwork is right on the mark.
All our S-models come with a 9,5″ radius with 6105 fretwire. So you still have the vintage vibe feel to the neck but with the playability of a much flatter fingerboard. Our 50's models have a maple fingerboard and our 60′ models have a rosewood fingerboard.
Our finishes and ageing process give the guitar it's distinct look. We use either period correct vintage colors or Dupont car colors of the 60's. And every once in a while we come with something new. Like our Monroe Red for example. We determine the level of aging while building the guitar. And we make sure that the aging is realistic and balanced. So we match the aging of the hardware with the aging of the body. Details matter.
On board you will find our Kauffmann pickups when it is single coil. They are best described as a creamy bluesy sound without losing that vintage transparency. We use CTS pots, vintage wire and we put in a treble bleed. To give you more tonal options we also include a blendable mid pickup. This gives the opportunity to dial in the mid pick up with any other pick-up selection. On the HS models we combine a Kauffmann bridge pickup with an Amber humbucker. And we add a coil split.
Read more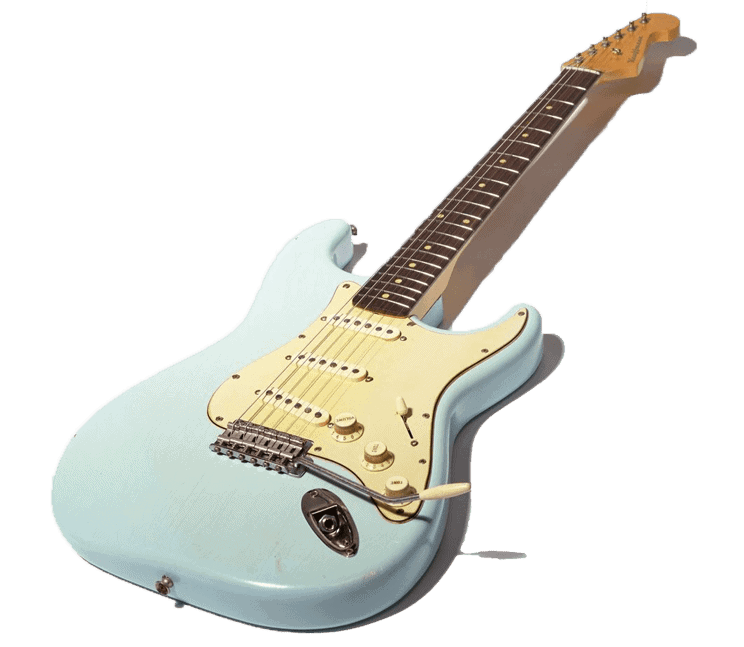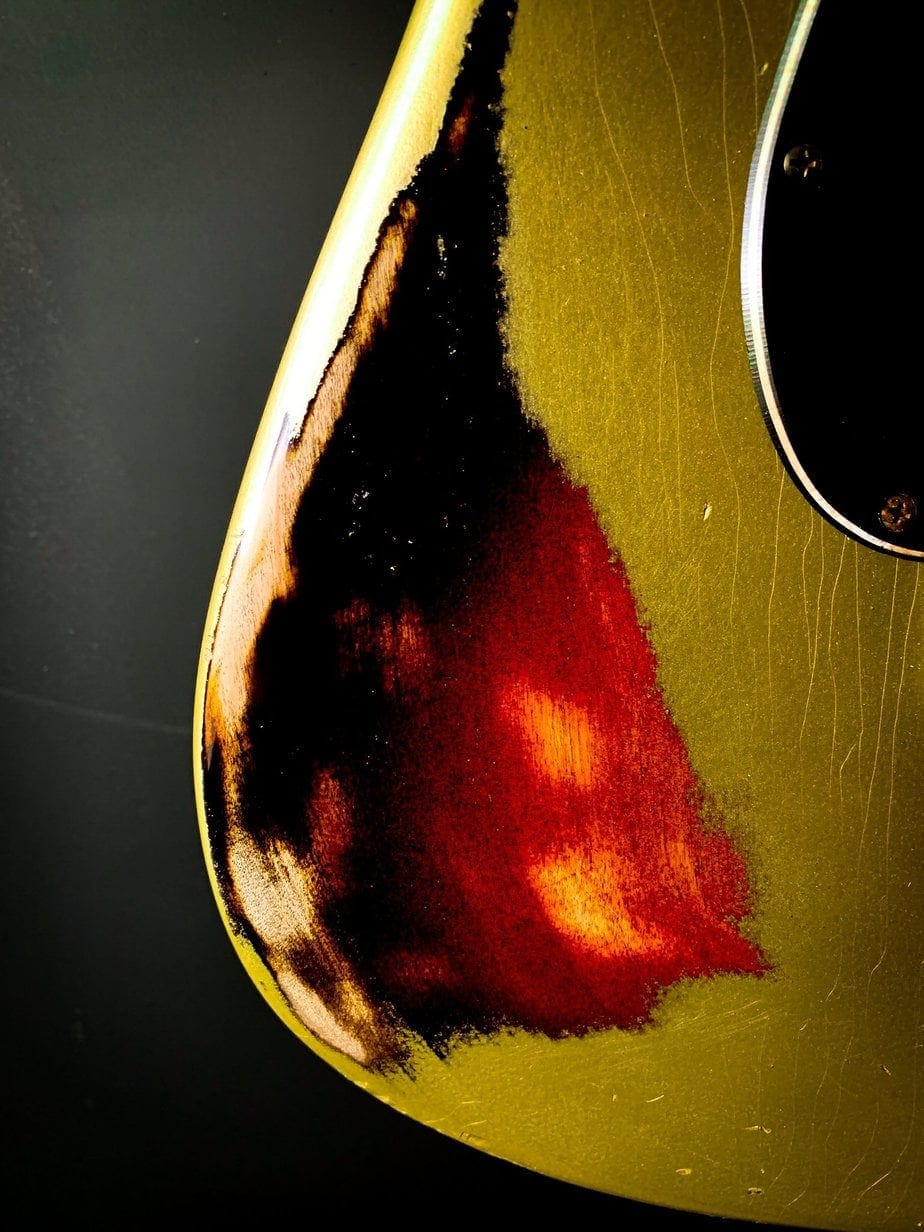 Aging levels
We do three aging levels. Lightly aged with just a bit of crackle. Moderate aging, crackle and some play wear. Severe aging, crackle and extreme play wear.
Worn in smooth neck
We take the finish of on all of our necks to give you that well worn in smooth feeling.
Aged finish
The thin finish is treated to give it that authentic crackled appearance. Especially on lighter colored guitars this a marvelous feature.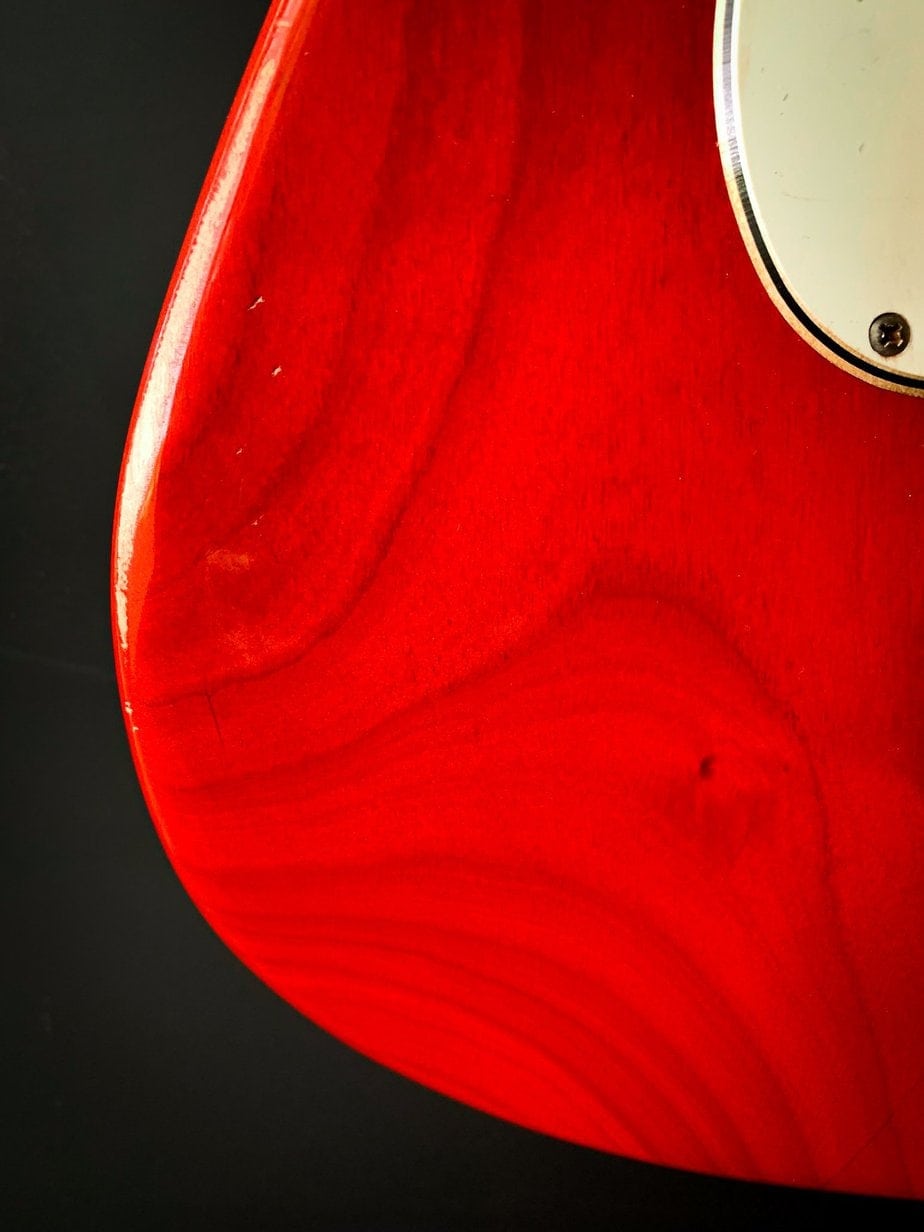 Ultra thin finish
Our bodies have thin nitro finish that is available in a great variety of colors. A thin coat of paint leaves more room for the guitar to resonate.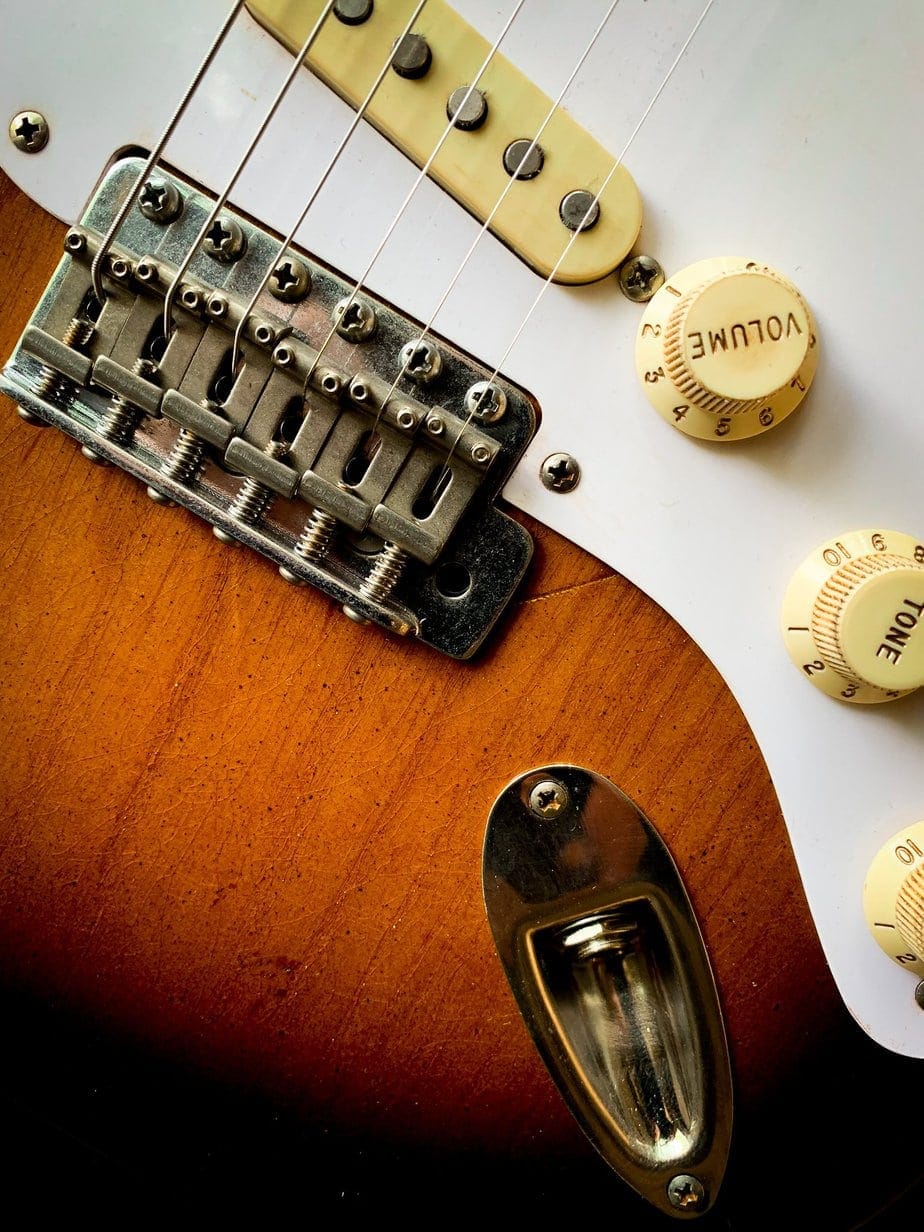 Aging hardware
We match the aging of the hardware with that of the body. Very realistic look and feel in all details.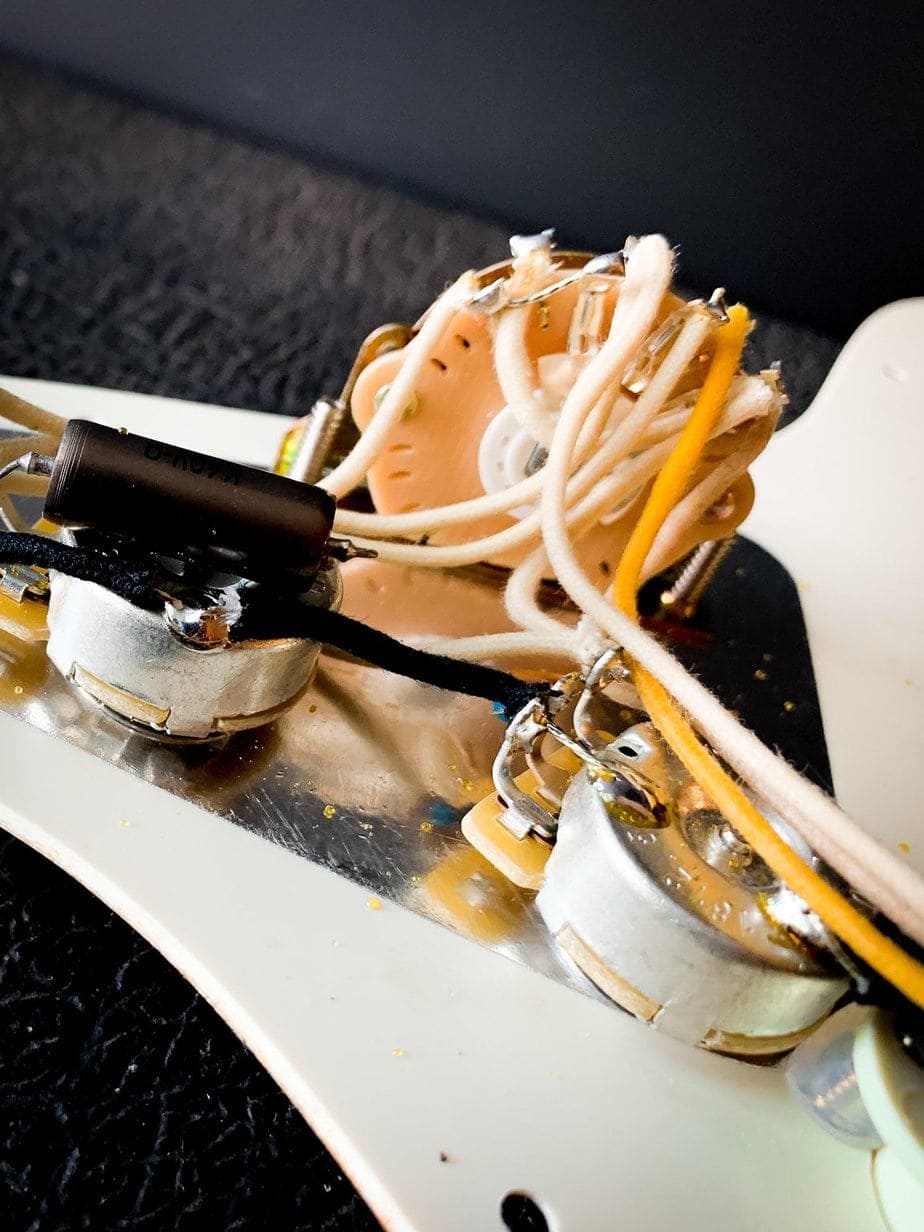 Electronics
We use CTS pots, vintage wire and a treble bleed on all our guitars. A Gillmore push-pull pot adds the neck pickup to any combination of pickups. Humbucker guitars will have a split coil push-pull switch.
Specifications
| '56 S and '63 S | Specs |
| --- | --- |
| Body | 2 piece alder or paulownia |
| Finish | Nitro cellulose lacquer |
| Neck | Maple |
| Neck profile | Rounded C |
| Neck thickness | 1st fret 0,87″ and 12th fret 0,95″ |
| Fingerboard | Rosewood on '63 and Maple on '56 |
| Fingerboard radius | 9,5″ with 6105 (modern, narrow and tall) fretwire |
| Headstock | Kauffmann decal |
| Nut | Tusq (width 41,5 mm) |
| Tuners | Vintage Gotoh |
| Tremelo | Gotoh 510 (spacing 10,8) |
| Pickups | Kauffmann overwound S set |
| Pickup selector | 5 way switch with Gilmore option under 2nd tone knob |
| Controls | Volume, tone, volume |
| Aging | Light or medium |
| Strings | 0.10 – 0.46 |
| Travels in | Deluxe gigbag |
| Price | € 1.895,- |
Upgrades
| Options | Specs | Price |
| --- | --- | --- |
| Base price | | € 1.895- |
| Neck | Quarter sawn roasted maple | € 200,- |
| Finish | Paisley finish | € 200,- |
| Finish | Sparkle Finish | € 175,- |
| Tremolo | Gotoh 501 (spacing 11,2) | € 0,- |
| Pick ups | Kauffmann scooped S set | € 100,- |
| Pickups | Amber humbucker in bridge with push pull coil split | € 195,- |
| Aging | Heavy relic | € 100,- |
| Case upgrade | Vintage Deluxe Case | € 125,- |