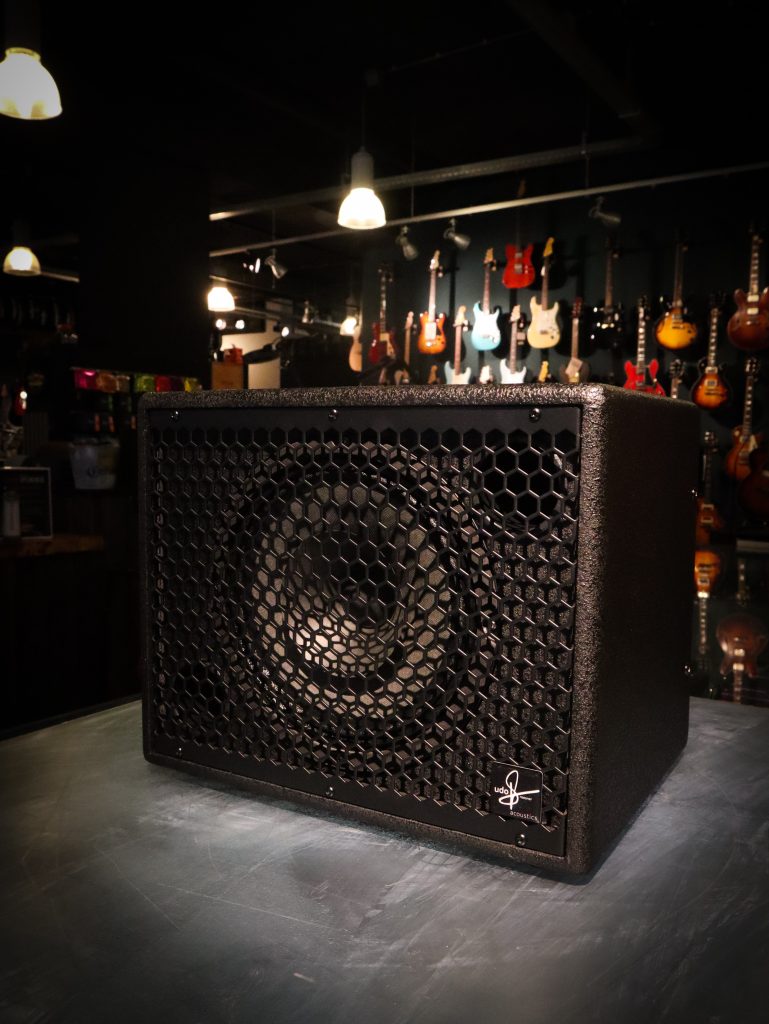 Reconsider your acoustic sound
This amp will blow you away. Because never ever have we heard an acoustic amp that delivers the sound of your acoustic guitar as powerful and convincing as this amp.it has a solid bottom end that reproduces whatever low your acoustic has in it. From piano like tight basses to a more warmer compressed base. Whatever your acoustic has the Da Capo 75 will reproduce. It delivers all the crisp shimmering highs that you love in your acoustic. The midrange is mellow and not no where as dominating as in most acoustic guitar amps. If you want to hear YOUR guitar amplified, this is the amp that will do it.
+ Shipping cost calculated at check-out
+ Your product ships within 2 working days
+ Fair Trade return within 14 days
+ Video Call demonstration for amps and guitars available.

Request Demo

Send Whatsapp

Send E-mail
Request a Video Call Demo
Udo Roesner Da Capo 75
https://www.kauffmannsguitarstore.com/product/udo-roesner-da-capo-75/
What would you like to know?
Udo Roesner Da Capo 75
https://www.kauffmannsguitarstore.com/product/udo-roesner-da-capo-75/
UDO ROESNER ACOUSTIC GUITAR AMPLIFIER
Udo Roesner, who has been designing acoustic instruments for over 30 years and is also known as the founder of AER Amps, has launched a new brand. The first model to introduce Udo Roesner Amps is Da Capo 75. A combo amplifier that boasts the best performance and specifications in a compact housing. Udo Roesner Amps products are designed and developed by Udo Roesner himself at MARco-labs in Germany and France. By producing in Indonesia, which has a reputation for musical instrument production, we have achieved reasonable prices while maintaining quality.
The Capo 75 is a 2-channel acoustic instrument combo amplifier equipped with custom-made 8-inch twin cone type speakers. It boasts a 75W output power in a compact housing and has six types of effects. Optimal size, power and performance. The ideal amplifier for acoustic instruments.
SPECS
Power: 75W nominal, 60W continuous, 180W instantaneous
Dynamic range: 92dB(A)
Driver : 8" double cone
Sensitivity : 93.1 dB SPL at 1m for 1W
Enclosure with bassreflex
2 channels with jack and XLR input, 3-band EQ and dedicated DI
2 line outputs: preamp level and -10dBV
Minijack stereo auxiliary input
External Send/Return effect loop
6 digital effects presets (2 reverbs, 2 delays, reverb+delay, chorus)
One delay effect controlled by footswitch
Color : black
Weight : 7.5kg
Dimension : 325 (l) x 245 (w) x 265 (h) mm.
Carrying bag included
Footswitch not included