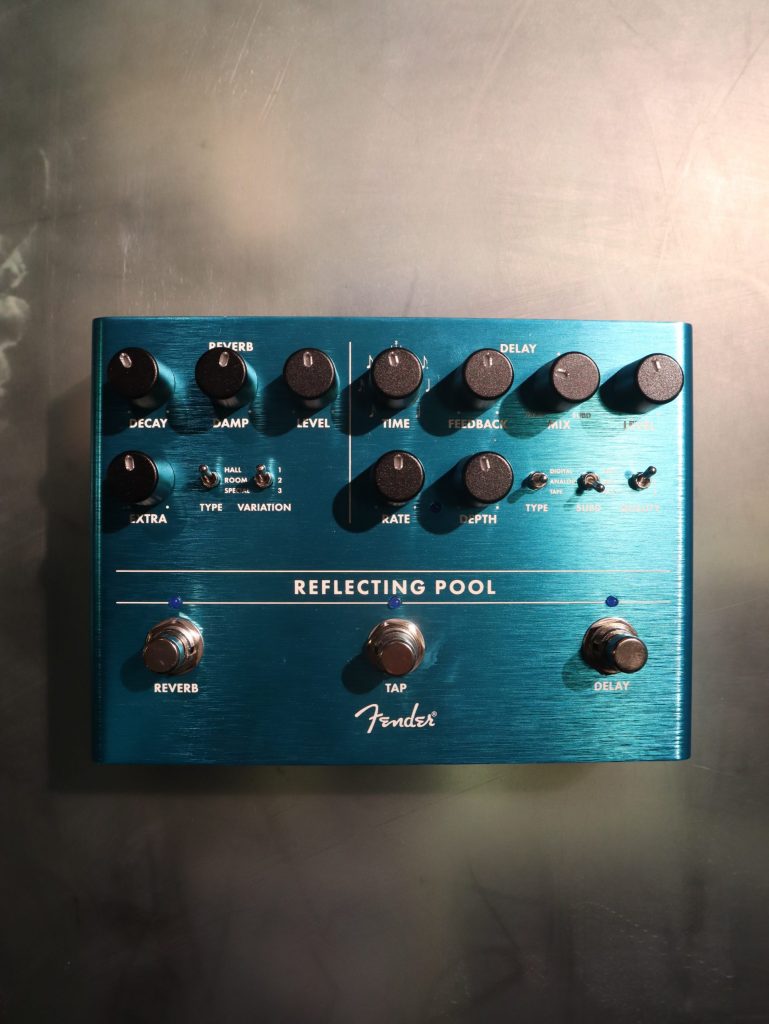 Fender Reflecting Pool Delay & Reverb
The relationship between time-based effects, like delay and reverb, is critical to operating them correctly. The Reflecting Pool® Delay/Reverb pedal combines these two classic effects into one comprehensive chassis, making it easy to integrate into any pedalboard. Utilizing cutting-edge DSP for rich and complex algorithms, Reflecting Pool® faithfully recreates classic sounds, while also conjuring otherworldly new ones. Type, Variation and Quality controls make it easy to precisely shape your sound, the Time toggle adds rhythmic subdivisions, and the Tap Tempo footswitch makes sure everything stays in time.
The Reflecting Pool® Delay/Reverb is an all-original Fender circuit. The chassis is crafted from lightweight, durable anodized aluminum, and the Amp Jewel LED gives your pedalboard the classic Fender look. The switchable LED-backlit knobs show your control settings on a dark stage at a glance.
+ Shipping cost calculated at check-out
+ Your product ships within 2 working days
+ Fair Trade return within 14 days
+ Video Call demonstration for amps and guitars available.

Request Demo

Send Whatsapp

Send E-mail
Request a Video Call Demo
Fender Reflecting Pool Delay & Reverb
https://www.kauffmannsguitarstore.com/product/fender-reflecting-pool-delay-reverb/
What would you like to know?
Fender Reflecting Pool Delay & Reverb
https://www.kauffmannsguitarstore.com/product/fender-reflecting-pool-delay-reverb/
SPECS
type effect: delay en reverb
regelaars reverb: time, damp, level, extra
schakelaars reverb: type, variation, path
regelaars delay: time, feedback, mix, level, rate, depth
schakelaars delay: time, type, quality
schakelaars algemeen: reverb, tap, delay, tails on / off
ingangen: 2x 6.35 mm mono jack-kabel input, 6.35 mm jack-kabel expression, USB
uitgangen: 2x 6.35 mm mono jack-kabel output
magnetisch batterij-klepje
voeding: 9VDC (niet meegeleverd)
behuizing: lichtgewicht, geanodiseerd aluminium