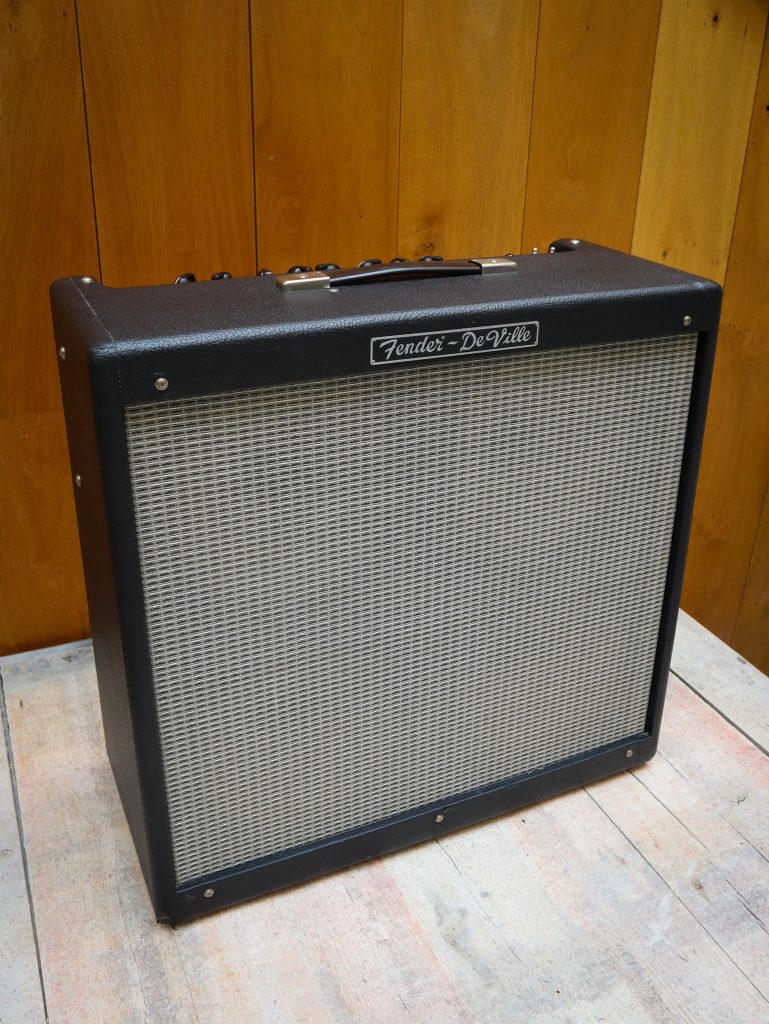 Fender Hot Rod Deville 410 Used
The sound of the Fender Hotrod Deville 410 III 60 Watt 4×10 tube guitar amplifier combo is rock solid. The Deville 410 III clearly stands out with its four Special Design Eminence loudspeakers. The classic 4×10 speaker configuration is borrowed from the famed Super Reverb and '59 Bassman amps. The accessible and strong Hotrod Deville 410 III delivers musical top performances both on stage and in the rehearsal room.
+ Shipping cost calculated at check-out
+ Your product ships within 2 working days
+ Fair Trade return within 14 days
+ Video Call demonstration for amps and guitars available.

Request Demo

Send Whatsapp

Send E-mail
Request a Video Call Demo
Fender Hot Rod Deville 410 Used
https://www.kauffmannsguitarstore.com/product/fender-hot-rod-deville-410-used/
What would you like to know?
Fender Hot Rod Deville 410 Used
https://www.kauffmannsguitarstore.com/product/fender-hot-rod-deville-410-used/
SPECS
Model Name: Hot Rod DeVilleª 410 III, 120V, Black
Series: Hot Rod
Color: Black
Amplifier Type: Tube
Electronics
Controls: Presence, Reverb, Master Volume, Middle, Bass, Treble, Drive Select Switch, Drive Volume, Bright Switch
Voltage: 120V
Wattage: 60 Watts
Effects Loop: 1/4" - (Preamp Out, Power Amp In)
Inputs: Two - (1/4", Input 2 is at -6dB)
Speaker Jack: Two 1/4" Parallel (Internal and External)
Channels: Three - Selectable (Normal, Drive and More Drive)
Rectifier: Solid State
Pilot Light Jewel: Red Jewel
Handle: Molded Rubber "Dog Bone" Style
Front Panel: Black
Grill Cover: Black Textured Vinyl Covering with Blackface Style Black/Silver Grille Cloth
Amplifier Depth: 10.75" (27.3 cm)
Amplifier Width: 23.5" (59.7 cm)
Amplifier Height: 23.5" (59.7 cm)
Amplifier Weight: 50 lbs. (22.7 kg)
Effects: Reverb
Speaker: Four - 10" Fender Special Design Eminence
Impedance: 8 ohms
Pre Amp Tubes: Groove Tubes - (3 x 12AX7)
Power Tubes: Groove Tubes - (2 x 6L6)
Miscellaneous
Unique Features: Independent Gain and Master Controls in Drive Channel,
Bright Switch, Effects Loop, Reverb, External Speaker Jack, 2-Button 3-Function Footswitch for Channel Select, Drive Select and "More Drive" Select, Black panel, Vintage Pointer Knobs, Internal Variable Bias Control