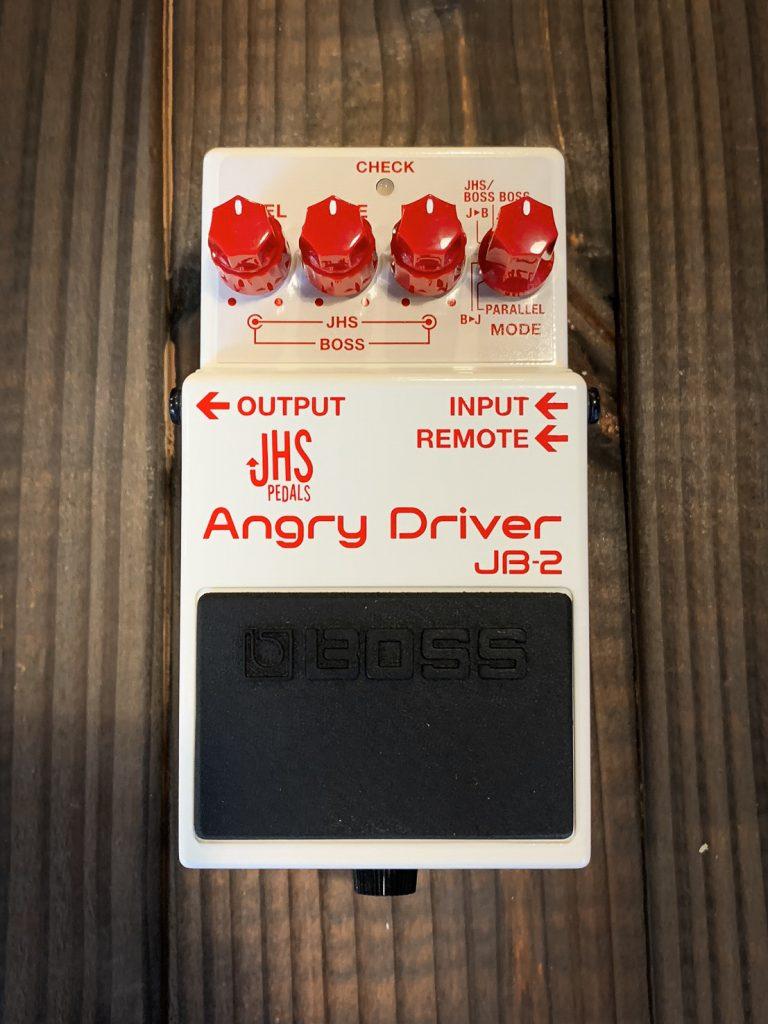 BOSS en JHS Pedals bundelen de krachten en creëren een nieuwe drive pedaal met een indrukwekkend klankbereik!
De JB-2 Angry Driver zit ondergebracht in het klassieke BOSS compact ontwerp, en koppelt de klanken van de iconische BOSS BD-2 Blues Driver aan de populaire Angry Charlie van JHS Pedals. Door nauw samen te werken, hebben de twee pedaalinnovatoren een gloednieuw gecombineerd circuit ontwikkeld, met een verfijnde sound en performance, die perfect afgesteld zijn voor dual-mode oversturing.De JB-2 Angry Driver beschikt over drie dubbele concentrische knoppen voor onafhankelijke drive, toon- en volumeregeling, voor elk type overdrive. Via een keuzeschakelaar met zes standen kun je elke overdrive afzonderlijk gebruiken, of combineren in seriële en parallelle configuraties. Met de mogelijkheid om de beroemde expressieve lage tot middelhoge gain-tonen van de Blues Driver te combineren met de agressieve rocksound van de Angry Charlie, in eender welke combinatie, biedt de JB-2 Angry Driver een ongeëvenaarde veelzijdigheid in één overdrive pedaal.
Klik hier om meer te weten te komen over dit pedaal en of het iets voor jou is!

Request Demo

Send Whatsapp

Send E-mail
Request a Video Call Demo
Boss JB-2 Angry Driver
https://www.kauffmannsguitarstore.com/product/boss-jb-2-angry-driver/
What would you like to know?
Boss JB-2 Angry Driver
https://www.kauffmannsguitarstore.com/product/boss-jb-2-angry-driver/
VIDEO
SPECIFICATIES
Compleet nieuw overdrive pedaal met een enorm klankbereik, gezamenlijk ontwikkeld door BOSS en JHS
Pedals
Combineer de sound van de BOSS BD-2 Blues Driver met die van de Angry Charlie van JHS Pedals
Drie dubbele concentrische knoppen voorzien onafhankelijke controle over drive, tone en level bij elk type
overdrive
Mode-schakelaar voor het kiezen van individuele overdrive types, twee seriële verbindingen voor stacking,
of een parallelle verbinding voor unieke nieuwe sounds
Beschikt ook over een modus voor het schakelen tussen BOSS en JHS overdrives via de ingebouwde
pedaalschakelaar
Remote switch jack voor het bedienen van pedaalmodi en het bypassen via een optionele
voetschakelaar of effects switching systeem
Meerkleurige LED-indicator toont BOSS modus (blauw), JHS modus (rood) en de twee samen (paars)
Vijf jaar BOSS-garantie