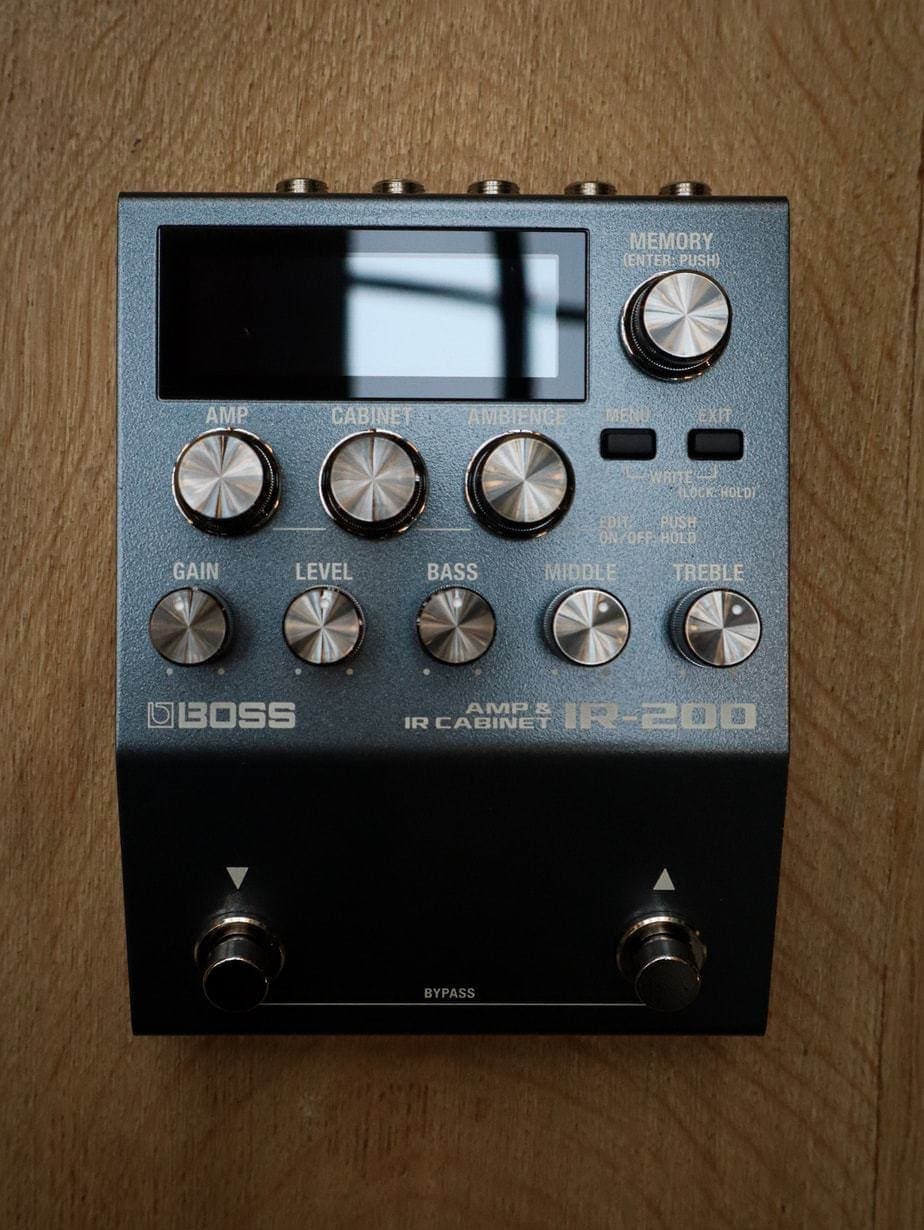 Boss IR-200 Amp & IR Cabinet
Boss unveils the IR-200 stompbox. This effects pedal is an IR impulse loader and amplifier in 1 compact housing, where you can tap into, for example, a sound set or an interface in any situation and thus have an amplified guitar sound. The appropriate adapter is also included in the delivery, so you can get started right away. Whether in the rehearsal room, on stage or in the studio. To shape your sounds, you first have the sounds of 8 legendary guitar amps and 3 classic bass guitar amps at your disposal. Then, with a higher gain setting, you can also choose to add the internal noise suppressor to the chain.
+ Shipping cost calculated at check-out
+ Your product ships within 2 working days
+ Fair Trade return within 14 days
+ Video Call demonstration for amps and guitars available.

Request Demo

Send Whatsapp

Send E-mail
Request a Video Call Demo
Boss IR-200 Amp & IR Cabinet
https://www.kauffmannsguitarstore.com/product/boss-ir-200-amp-ir-cabinet/
What would you like to know?
Boss IR-200 Amp & IR Cabinet
https://www.kauffmannsguitarstore.com/product/boss-ir-200-amp-ir-cabinet/
SPECS
Boss impulse response effectpedaal
serie: 200
model: IR-200 Amp & IR cabinet
sample-frequentie: 96 kHz
AD-conversie: 32 bit + Adaptive Focus method
DA-conversie: 32 bit
processing: 32 bit floating point
guitar amp types: 8
bass amp types: 3
ambiance types: room, studio, hall
IR cabinet user memory: 128
IR cabinet presets: 154 (144 Boss, 10 Celestion Digital)
IR cabinet data-format:

mono / stereo WAV
maximaal 500 ms
44.1 /48 / 96 kHz,
16 bit linear / 24 bit linear / 32 bit floating point

regelaars:

amp
cabinet
ambience
memory
gain
level
bass
middle
treble

schakelaars:

2x bypass
menu
exit
amp
cabinet
ambience

ingang:

6.35 mm mono jack input
CTL 1,2 / EXP
MIDI IN (mini TRS)
USB micro B
6.35 mm mono jack return
3.5 mm jack aux in

uitgang:

2x 6.35 mm mono jack output
MIDI OUT (mini TRS)
6.35 mm mono jack send
3.5 mm jack phones

voeding: 9V DC, 335 mA (adapter meegeleverd)
afmetingen: 138 mm x 101 mm x 63 mm
gewicht: 660 g
meegeleverd: batterijen, 4 rubber voeten, handleiding